'Inspirational Story' of Charter School Founded by Kyle Smitley '07 Shared on National TV Show
November 1, 2013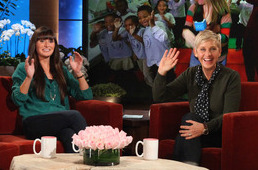 Kyle Smitley, co-founder of Detroit Achievement Academy and 2007 graduate of DePauw University, was featured today on the Ellen DeGeneres Show. The nationally syndicated program featured Smitley and her school in its "Inspirational Stories" segment.
Detroit Achievement Academy is a free public charter school that uses the culturally and historically rich landscape of Detroit, Michigan as the inspiration for a project-based learning experience for its students. Smitley launched the school this year after founding barley & birch, a USA-made, 100 percent-certified organic clothing line for children.
"I had a clothing line for kids, I was in the young entrepreneur world, I had everything I needed, I was living in San Francisco," she told the program. "And I think what I learned is you can have it all
and feel empty if you're not doing something more meaningful," Smitley told DeGeneres. "So I decided that I would drop it and move to Detroit and open a school," she explained, and the studio audience responded with applause.
DeGenres reminded her audience that Smitley is 28 years old. "That's amazing. Some people figure that out later in life and you realize there can be something more when you give back."
The school has 40 students and is actively recruiting more.
Smitley was surprised when the show connected live with the school via satellite and she was greeted by her young students. She was also presented with a check for the Detroit Achievement Academy for $25,000 from Shutterfly, which the TV program matched.
Video of the segment is embedded below.
Learn more about Detroit Achievement Academy at the school's website.
Smitley, who was featured in Inc.'s 2009 listing of "30 Under 30: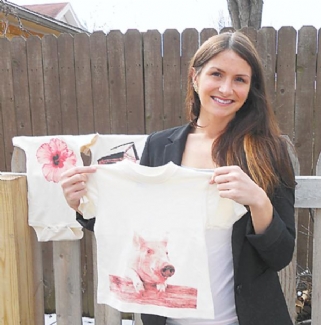 America's Coolest Entrepreneurs," was an environmental geoscience and philosophy double major at DePauw and has also been featured in Fortune and the Huffington Post.
She returned to her alma mater last year to present a DePauw University 175th Anniversary Distinguished Alumni Lecture (seen in photo above left).
Source: Ellen DeGeneres Show
Back