ArtsFest Concludes Sunday with 'A Hero's Journey' by DePauw Choirs
November 7, 2013
The final presentation of ArtsFest 2013 -- an eight–day campus-wide immersion into the arts centered on the theme of "Art & the Quest" -- will be a choral concert exploring the stages a hero's journey, as described by Joseph Campbell and interpreted through the eyes of the DePauw University's Director of Choirs, Gregory Ristow. The concert, which will be conducted by Ristow, will take place on Sunday, November 10, at 3 p.m. in Kresge Auditorium, located within the Green Center for the Performing Arts.
The multi-faceted program includes such monolithic musical selections as John Williams "Duel of the Fates" from Star Wars: The Phantom Menace and "Double Trouble" from Harry Potter and the Prisoner of Azkaban, as well as music by Handel, Mendelssohn, and faculty composer Scott Perkins.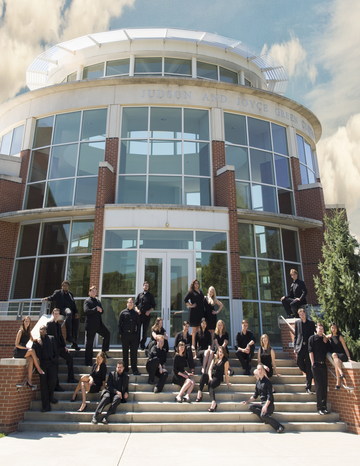 "It's a whole multi-media concert," Prof. Ristow explains. "We're using projections of art works, clips from films, readings from literature and music -- that's the biggy, of course -- to illustrate the hero's journey as outlined by sociologist Joseph Campbell."
And a lot of people are involved. In addition to the University's combined choirs, the student-run Bootleg String Ensemble will take the stage. Soprano Pamela Coburn '74, James B. Stewart Distinguished Visiting Professor of Music, is featured as the soloist in Mendelssohn's "Hear My Prayer" and Carla Edwards, the university organist, will play as well.
In some ways the program follows the storyline of the conductor's life quest. As he was beginning work on his master's degree, his best friend gave him a copy of The Power of Myth, the companion book to Bill Moyer's 1988 PBS television series, which fascinated him. "It helped me see connections between so much literature, mythology and film that I'd read and seen in the past, but that I hadn't previously seen as being connected," Ristow recalls.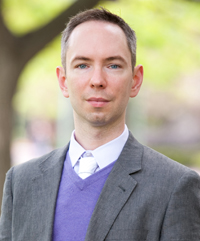 "I've been studying Campbell's work for a long time. What's really fun," the conductor observes, "is sharing my understanding of his theories. It's not just about heroes; it's about the journey we must all take in order to grow from the vapid innocence of youth into our fullest selves."
General admission tickets for "The Hero's Journey" are $3; tickets for all students, seniors and seniors are free.
For more information, contact Dr. Ristow (gregoryristow@depauw.edu). For assistance with obtaining tickets, visit www.depauw.edu/music/tickets, stop by the box office, located on the ground floor of the Green Center at 605 S. College Avenue, or call (765) 659-4827.
Back