Grammy-Winning Turtle Island Quartet to Perform with Nellie McKay Thursday
November 9, 2013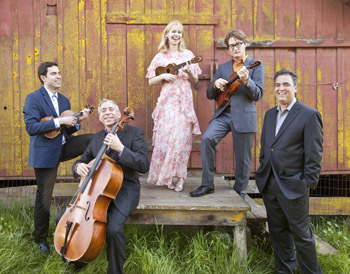 Singer, songwriter, and multi-instrumentalist Nellie McKay joins forces with the two-time Grammy Award-winning Turtle Island Quartet for the next Green Guest Artist Concert on Thursday, November 14. For the 7:30 p.m. program in Kresge Auditorium, the San Francisco-based ensemble will present a kaleidoscopic review of songs of Billie Holiday, Billy Strayhorn and Weimar cabaret music of the 1920s.
While the combination of voice and strings has long been a staple of the classical genre, as well as of contemporary music, McKay's talents on piano, marimba and ukulele, and Turtle Island's famed innovative rhythmic techniques unleash an unprecedented range of possibilities. Rounding out the concert will be a healthy dose of original music, for which both McKay and the Turtle Island Quartet are renowned.
The multi-award winning quartet has released numerous recordings and toured internationally for more than a quarter of a century,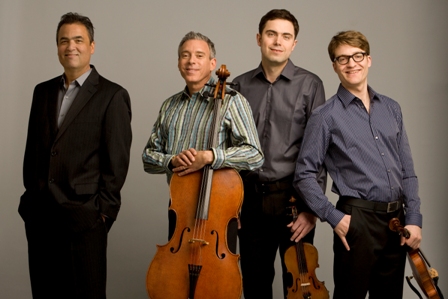 collaborating with some of the most sought-after artists of the day, including Paquito d'Rivera, The Assad Duo, Cyrus Chestnut, and Leo Kottke. McKay, who performed on Broadway in the Brecht-Weill work The Three Penny Opera, specializes in music of 1920s Berlin as well as jazz standards made famous by Billie Holiday. The blonde songstress has opened for Cyndi Lauper, Sting and Alanis Morissette, as well as Lou Reed at Carnegie Hall.
Some of the pieces selected for the program transcend time and genre: well known standards such as I Remember You, Mean To Me, and I Cover The Waterfront, to the more offbeat, such as Marlene Dietrich's sultry version of Black Market, and Alabama Song, the German cabaret tune revived in modern times by The Doors. Also included is a touch of Doris Day, whose music was evocatively revisited by McKay on her recent recording Normal as Blueberry Pie. Songs by the great Billy Strayhorn complete a night of musical revelry.
General admission tickets for Green Guest Artist Concerts are
$10–15 and are available online and at the Green Center box office. Tickets for students, seniors and children are free, thanks to season sponsors Judson and Joyce Green ('74 & '75). For assistance with obtaining tickets, visit www.depauw.edu/music/tickets or stop by or call the Green Center box office, (765) 658-4827.
Back