Tigers Claim Back-to-Back NCAC Tournament Titles
November 9, 2013
Greencastle, Ind. - For the second straight season the DePauw field hockey team has captured the North Coast Athletic Conference regular season and tournament titles. The Tigers took down Kenyon 2-1 in Saturday's NCAC championship contest held at Blackstock Stadium.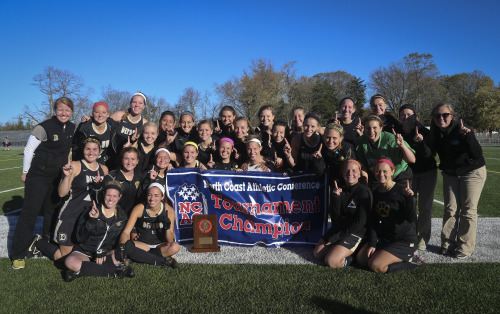 With the win the Tigers improved to 17-4, while Kenyon dropped to 13-7.
The Tigers were off to a quick start when Grace Goodbarn scored an unassisted goal in the second minute of the contest. Micheline Figel would increase the DePauw lead when she added a goal on an assist from Maggie Campbell in the 28th minute. DePauw outshot Kenyon 5-2 in the first half and took a 2-0 lead to halftime.
The Kenyon Ladies increased their offensive pressure at the start of the second half firing four shots in the first five minutes. Kenyon cut into the Tigers' lead when Rachel Hall sent a corner into Maddie Breschi who fired a shot that reached the back of the cage in the 39th minute.
Late in the second half the Tigers were penalized with two yellow cards forcing them to play with just nine players. However, DePauw was able to withstand the disadvantage and hold their lead during the penalty time and ultimately emerge victorious.
DePauw outshot Kenyon 10-8 in the contest and held an 8-5 edge on penalty corners.
Following the contest the NCAC all-tournament team was announced. The Kenyon Ladies were represented by Alex Bair, Breschi and Emmy Weiner. DePauw selections were Paige Henry, Goodbarn, Figel and Chelsea Cutler. Cutler was also named the NCAC tournament most valuable player.
DePauw has earned an automatic berth into the NCAA Division III tournament for the second straight season. Last season, the Tigers advanced to the NCAA semifinals before falling to eventual champions Tufts.
Be sure to follow DePauw Athletics on Twitter (@DePauwAthletics / @DePauwFH) for NCAA tournament information or check the DePauw Athletics webpage.
Back