Jazz Musicians from DePauw & Greencastle Middle School to Share the Stage Friday
November 11, 2013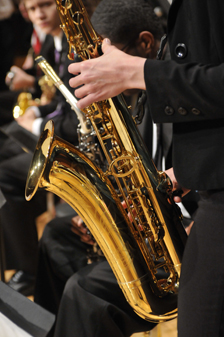 Last year, the DePauw University School of Music adopted the music program at the Greencastle Middle School. Since early September of this year, DePauw music students have been traveling across town to dedicatedly rehearse with their younger counterparts at seven o'clock in the morning, and this Friday night one of the many fruits of this labor can be heard when the Middle School's jazz band will take the stage with DePauw's jazz ensemble in a joint concert in the Green Center for the Performing Arts. The performance will take place at 7:30 p.m. November 15 in Kresge Auditorium.
The GMS Jazz Ensemble will open with "Mercy, Mercy, Mercy" and "The Swinging Shepherd Blues," as a warm-up for the University jazz group, which will follow with a program featuring trumpet professor Lennie Foy as guest soloist. The playlist includes an incredible variety of jazz, ranging from Duke Ellington and Count Basie, all the way to Gord Goodwin, Chick Corea and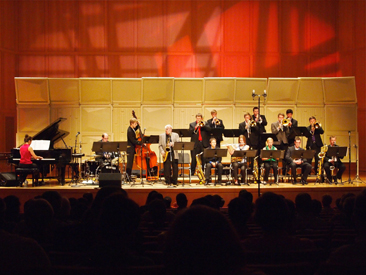 Radiohead. swing, dance, Latin, and Afro-Cuban styles will all be on display.
"This has been a very rewarding initiative," says Mark McCoy, dean of the School of Music. "To watch music students from DePauw teach and lead students from the Greencastle Middle School is a thrill. To see our students 'pay it forward' and to hear the results of their efforts is a perfect example of how this partnership benefits everyone."
Soloist and DePauw School of Music faculty member Lennie Foy has been featured on trumpet in both jazz and classical performances around the world, from the Ravinia Festival to the Kennedy Center, including recording and touring internationally since 1991 with the Smithsonian Jazz Masterworks Orchestra, acclaimed by the New Y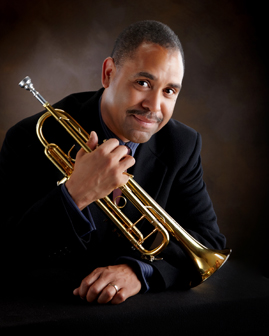 orker as "the best jazz repertory band in the country." He has been performing cornet since 2003 with the Brass Band of Battle Creek, called the "Rolls Royce of Brass Bands" by Brass Band World. His work with a range of conductors includes David Baker, Quincy Jones, Leonard Slatkin and Giancarlo Guerrero. Memorable CD recordings include Smack Dab In The Middle with the Hal Leonard Jazz Orchestra, conducted by John Clayton; Beethoven's Symphony No. 7 with the Nashville Symphony; and the DVD Live at Manchester Craftsmen's Guild with the Smithsonian Jazz Masterworks Orchestra.
General admission tickets to hear the joint jazz concert are $3. Tickets for all students, children and seniors are free, thanks to season sponsors Judson and Joyce Green. To purchase tickets, visit www.depauw.edu/mus ic/tickets or stop by or call the Green Center box office, (765) 658-4827.
Back