Nathan Sprenkel '12 Signs Pro Soccer Contract with Indy Eleven
November 12, 2013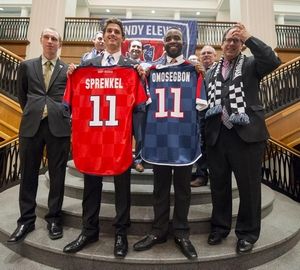 Nathan Sprenkel, a 2012 graduate of DePauw University and a standout soccer player for the Tigers, has signed a pro contract with the Indy Eleven, the North American Soccer League expansion team that will begin play in April.
"When the former Zionsville High School and DePauw University goalkeeper learned about the Indy Eleven, Indianapolis' North American Soccer League expansion team, he made it his mission to land a spot on the team," writes the Indianapolis Star's Mark Ambrogi. "Sprenkel, 23, attended every tryout over the summer and got his reward on Monday. Sprenkel was one of two area players the Indy Eleven announced as new members." (top photo by Star's Doug McSchooler shows, l-r: assistant coach Tim Regan; Babalakin 'Baba' Omosegbon, defender; Nathan Sprenkel; and president/general manager Peter Wilt)
"It's awesome that it's come to fruition and I couldn't be more excited," Sprenkel tells the newspaper. His signing was announced at the Indiana Historical Society yesterday.
"Sprenkel played at Duquesne University in the Atlantic 10 as a freshman but soon decided it wasn't the right fit for him," notes the article. "When he began to look at where to transfer, his mother suggested DePauw, a Division III program. 'It's close to home, so there was no reason not to check it out,' said Sprenkel, who is now a DePauw assistant coach. 'I loved it from day one.'"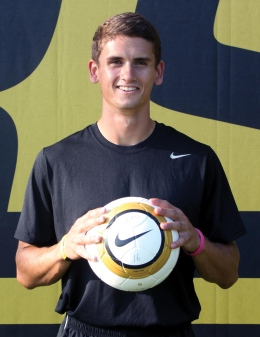 A psychology major at DePauw, during his senior season Sprenkel earned second team all-America honors from the National Soccer Coaches Association of America in addition to being named the North Coast Athletic Conference Defensive Player of the Year and garnering all-NCAC first team honors. He also was the Southern Collegiate Athletic Conference Defensive Player of the Year in 2010 in addition to earning all-SCAC and all-Great Lakes Region first team honors. (photo at left by Isabelle Chapman/The DePauw)
He's previously been on the rosters of Antigua Barracuda FC in the United Soccer League and the Chicago Soul of the Major Indoor Soccer League.
Sprenkel says he's dreamed of a pro soccer career since his youth. "As a kid you say that, but you don't know what it takes or what it means. But it started to be something I really worked for in high school and college when I started to see it could be a possibility."
Read more at IndyStar.com.
Back