Monon Bell on Star's 'Sports Bucket List'
October 15, 2013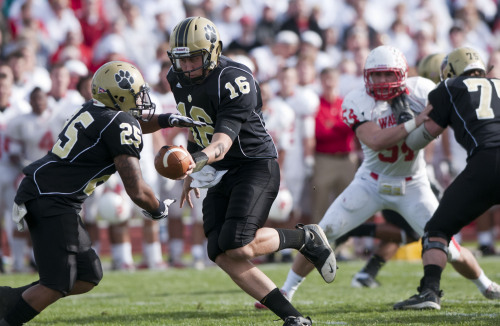 The Indianapolis Star offers an "Indiana fall sports bucket list," and the annual football rivalry game between DePauw University and Wabash College -- the Monon Bell Classic -- is listed among the "fall must-dos for the Indiana sports fan."
"This year's Monon Bell will be the 120th meeting between rivals DePauw University and Wabash College, with the victor staking claim to the 300-pound locomotive bell," the newspaper notes. "The rivalry, which is the 12th-most played in all of college football, has been one-sided in recent years. Wabash has won the last four meetings by a combined score 147-26.
This year's contest will be played on DePauw's campus in Greencastle."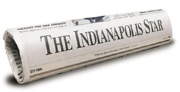 Access the photo gallery at IndyStar.com.
The 120th Monon Bell Classic kicks off at 1:07 p.m. on November 16. Tickets are available via this link. For the ninth time, the game will be televised nationally by AXS TV.
DePauw and Wabash first met on the gridiron in 1890. In 1932, a locomotive bell from the a locomotive bell donated by the Chicago, Indianapolis and Louisville Railroad Company, also known as the Monon Line, was donated and became the winner's trophy each year.
In the all-time series, Wabash holds a 57-53-9 lead. Since the Monon Bell entered the rivalry in 1932, Wabash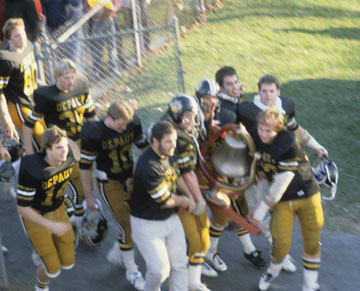 leads, 38-37-6. (at right: the 1981 Tigers collect the Monon Bell after they prevailed 21-14, snapping Wabash's 24-game winning streak)
All 119 games to date are commemorated in video vignettes known as "Monon Memories." Created by Ken Owen '82, executive director of media relations at DePauw, the clips can be found here and on YouTube.
Access DePauw's Monon Bell Web page here.
Source: Indianapolis Star
Back