Seven Tigers Net All-NCAC Honors
November 13, 2013
Greencastle, Ind. – After winning back-to-back North Coast Athletic Conference tournament titles the DePauw field hockey team had seven student-athletes earn All-NCAC honors, including Chelsea Cutler (Victoria, B.C./Mt. Douglas Secondary) who was named Defensive Player of the Year for the second straight year.
Joining Cutler on the first team was junior forward Paige Henry (Louisville, Ky./Kentucky Country Day), sophomore midfielder Grace Goodbarn (Highlands Ranch, Colo./Mountain Vista) and senior defender Taylor Helms (Oklahoma City, Okla./Casady School).
Cutler (pictured) and Helms lead a Tiger defense that ranks ninth in Division III in goals against average (0.90) and ranks sixth in shutouts with 10. Cutler added 11 goals and an NCAC best 13 assists, while Helms scored one goal on the year.
Henry paced DePauw's offensive with an NCAC leading 20 goals and 42 total points. She fired 109 shots leading the Tigers' attack who outshot opponents 506-103 and outscored the opposition 76-19. Henry is joined by Goodbarn who added six goals and assisted on three.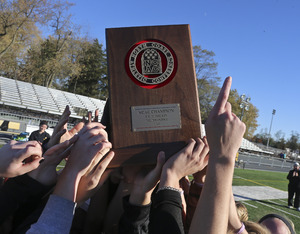 DePauw also placed junior forward Maggie Campbell (Winnetka, Ill./New Trier) and junior midfielder Kylie Maloney (Wheaton, Ill./Glenbard West) on the second team. Campbell has scored 13 goals this season and added four assists, while Maloney has played an integral part of the Tigers' defense starting in 19 of 21 contests this year.
Junior forward Grace Fisher (St. Louis, Mo./St. Joseph's Academy) was an honorable mention selection. Fisher has scored two goals and assisted on four in the 2013 campaign.
The Tigers enter the NCAA Division III tournament with a 17-4 overall record and will play Saturday, November 16, against the winner of tonight's matchup between Catholic (15-5) and Messiah (13-3). Saturday's game will take place at Christopher Newport University in Newport News, Va.
DePauw advanced to the NCAA semifinals last year and are making their fourth overall appearance in the Championship. The full Division III bracket is available here.
Back