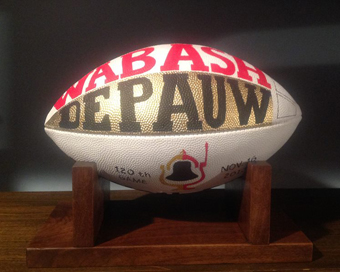 "Members of DePauw University and Wabash College Phi Delta Theta chapters will present the game ball to officials prior to the start of Saturday's 120th Monon Bell Classic," reports the Banner-Graphic.
"The idea is to raise both awareness and funds for our International fraternity charity the ALS Association," says Jake Rust, a DePauw junior and president of the Phi Delt chapter. "In addition, it help sets a tone for the respect we have for the event and the competition."
"ALS -- commonly known as'"Lou Gehrig's Diseas'" -- is a progressive neurodegenerative disease that attacks nerve cells and pathways in the brain and spinal cord. As many as 30,000 Americans may currently be affected by ALS ... Wabash Phi Delts will take the ball halfway between Crawfordsville and Greencastle. Then, senior Ryan Heeb will head a team of DePauw Phis who'll bring it the rest of the way on foot and bike. After the game, the ball will be presented to the winner of a raffle held earlier in the week at an alumni dinner."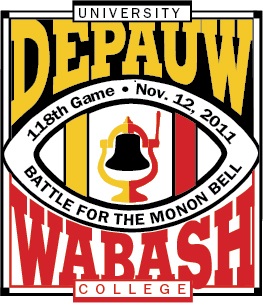 Read more here.
The newspaper also writes about the third annual Monon Chili Cookoff, another joint effort between the two colleges which raises money for charity. That article is available here.
The 120th football game between DePauw and Wabash kicks off at 1:07 Saturday afternoon, and tickets remain available. The contest will be televised nationally by AXS TV and pre-orders are being accepted for the 2013 Monon Bell DVD.
Access DePauw's Monon Bell Web page here.