Psychology Prof. Matt Hertenstein Drops In on TV's Fox & Friends
November 12, 2013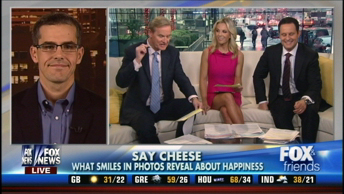 The hosts of the Fox News Channel morning program Fox & Friends welcomed Matt Hertenstein, associate professor of psychology at DePauw University and author of the new book The Tell: The Little Clues That Reveal Big Truths About Who We Are, to the show today. Dr. Hertenstein appeared via satellite from Indianapolis to discuss his research on yearbook photos and how the emotions a person displays in the images can be a predictor of divorce later in life.
The research in question was conducted by Professor Hertenstein and his students at DePauw's Touch and Emotion Lab. It has received widespread media attention in the past, including a feature on NBC's Today and was included in the New York Times Magazine's "Ninth Annual Year in Ideas." Last weekend, an essay by Dr. Hertenstein detailing his research was published in the Wall Street Journal.
The segment is embedded above. Learn more at the program's website.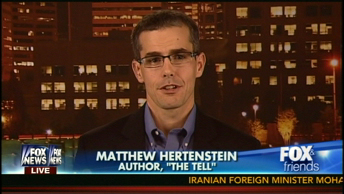 The Tell arrives in bookstores this week. Read more about in this recent summary or at Amazon.com or Barnes & Noble.com.
Matthew J. Hertenstein's research on communicating through touch was featured in the April issue of O, The Oprah Magazine and Psychology Today, among other media mentions.
The DePauw professor is the co-editor of The Handbook of Touch: Neuroscience, Behavioral, and Health Perspectives, published by Springer.
Source: Fox News Channel
Back