Information on Doors and Webcast for Thursday's Ubben Lecture by Martin Luther King III
November 19, 2013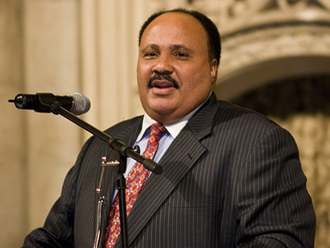 Thursday night's Ubben Lecture by Martin Luther King III will be webcast live. Doors to Meharry Hall, located within DePauw University's historic East College, will open at 6:45 p.m. for students, faculty and staff with DePauw ID; all others may enter the hall beginning at 7 p.m. The program will start at 7:30 p.m.
On the evening before America pauses to mark the 50th anniversary of the assassination of President John F. Kennedy, Dr. King's oldest son will offer "Reflections on the 50th Anniversary of Two Pivotal Events: My Father's 'Dream' and JFK in Dallas." Like all Timothy and Sharon Ubben Lectures, the event is presented free of admission charge.
Should Meharry Hall fill to capacity, overflow seating will be available in the ballroom of the Memorial Student Union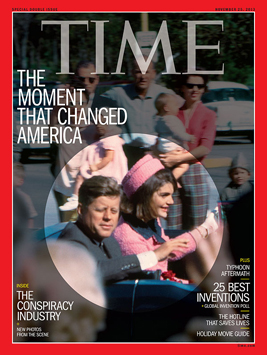 Building, where guests may watch the speech via a closed circuit video feed.
Learn more about Martin Luther King III and his Nov. 21 visit in this previous summary.
Mr. King previously spoke at DePauw in February 2002. His father addressed an audience in Gobin Memorial United Methodist Church on the DePauw campus on September 5, 1960. (at left: the cover of this week's TIME magazine)
Established in 1986 through the generous support of 1958 DePauw graduates Timothy H. and Sharon Williams Ubben, the Ubben Lecture Series was designed to "bring the world to Greencastle." Guests have included Bill Clinton, Margaret Thatcher, Benazir Bhutto and Mikhail Gorbachev.
Two Ubben Lectures have already been presented during the current academic year: Fox News Channel anchor and 1992 DePauw graduate Bret Baier (pictured at right) visited on October 12, while former congressman and three-time presidential candidate Ron Paul delivered a September 10 speech.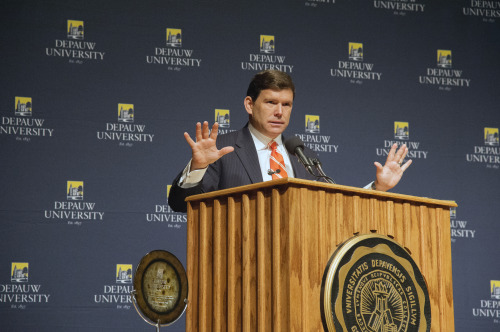 To view a complete roster of Ubben Lecturers -- which includes links to video clips and news stories -- click here. Video montages of many events are available on YouTube.
A video history of the Ubben Lecture Series was created in 2008, and can be accessed here.
Back