Cymerman to Perform Rhapsody in Blue with DePauw Wind Ensemble in Final 'Farewell Concert' Sunday
November 20, 2013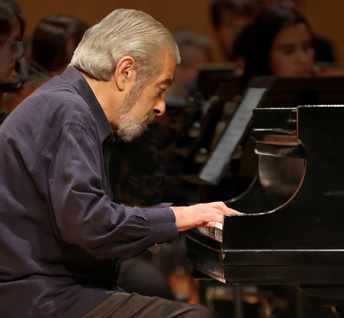 After 39 years of teaching and countless concerts at the DePauw University School of Music, this Sunday, November 24, faculty pianist Claude Cymerman will take his place at the Steinway on the Kresge Auditorium stage one more time. For his final farewell concert prior to his retirement in May, Cymerman will perform George Gershwin's jazz-influenced masterpiece Rhapsody in Blue, accompanied by the DePauw Wind Ensemble. The concert, conducted by director of bands Craig Paré, will be given at 3 p.m. in DePauw's Green Center for the Performing Arts.
The program appropriately opens with Joan Tower's energetic "Celebration Fanfare." Other works for symphonic band will include Cartoon by Paul Hart, written in the style of musical soundtracks for animated shorts; the lush "Pastoral Nocturne" from Sinfonietta by Ingolf Dahl; Steven Bryant's rhythmic Radiant Joy and Walking Tune by Percy Grainger. Bernstein's electrifyingly cool jazz ballet "Symphonic Dances," from the musical West Side Story, brilliantly arranged for winds, concludes the first half of the program.
The pièce de résistance, however, follows intermission -- Cymerman's performance of Gershwin's 1924 Rhapsody in Blue in a wind arrangement originally written for Paul Whiteman's big band.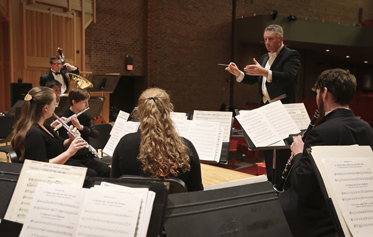 Cymerman is particularly pleased to be performing the work with the student ensemble, and Paré has been looking forward to performing it with him for a long time. Sunday's concert will be the first time that the conductor has worked with his colleague in a solo capacity.
"Claude has been one of the most inspiring musicians I've known since I've been at DePauw. There is a kind of duality to his artistry, in terms of both his imagination and also the seriousness that he brings to what he does," Paré observes. "Whatever the repertoire that he is performing, Claude does it at different, higher level. He is a very creative and very imaginative musician, equally at home in both jazz and classical music."
As a teacher, Cymerman -- who joined the DePauw University School of Music faculty in 1974 -- is also known for his willingness to share his knowledge with others. "Rhapsody in Blue is a difficult, graduate-level piece and not many of the students knew it," the director continues. "Professor Cymerman has been very patient and generous with his time, coming to multiple rehearsals and allowing the students many opportunities to learn how to interact with his solo voice."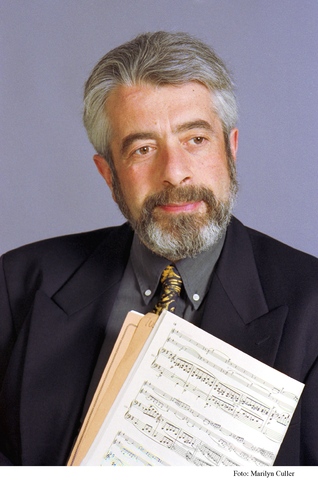 Paré admits that conducting the renowned pianist has even been a little intimidating. "Knowing he knows this piece so well and has definite opinions about it has also been a challenge for me as a conductor -- a positive challenge," he adds. "Claude's presence on our faculty will be missed next year. His high standards have defined the artistic goals of the DePauw School of Music during my 21 years on the faculty here."
For Sunday's performance, the director is also encouraging audience members to bring a non-perishable food item to exchange at the box office for a free ticket. All donations received will go to the Putnam County Emergency Food Pantry. Monetary donations to the food bank will also be accepted.
For additional information about the performance, contact Dr. Paré, cpare@depauw.edu. For assistance with obtaining tickets, drop by the Green Center box office, visit www.depauw.edu/music/tickets or call (765) 658.4827.
Back