Celtics Coach Brad Stevens '99 Tells ESPN.com of His "Beneficial" DePauw Experience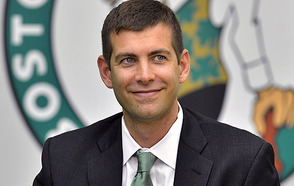 November 21, 2013
"College makes you grow up," says Brad Stevens, head coach of the NBA's Boston Celtics. "My experience at DePauw was about as beneficial as any experience I've had."
Stevens, a 1999 graduate of DePauw University, is the subject of an ESPN feature that focuses on how his move from a starter to a role player on the Tiger basketball team helped shape him. The article includes comments from DePauw teammates Joe Nixon and Josh Burch as well as his college coach, Bill Fenlon.
"After a rousing career at Zionsville (Ind.) Community High School, when he led the state with 32.3 points a game in sectional play, Stevens received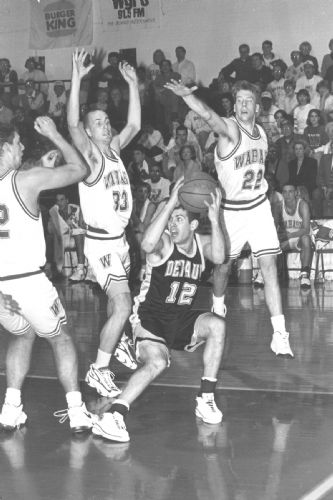 scholarship offers from only one Division 1 program -- Mercer, coached by Bill Hodges, who rode Larry Bird all the way to the national championship game as coach of Indiana State. Stevens chose Division III DePauw instead. There, he surmised, he could excel in the game he loved while preparing in a competitive academic setting for the inevitable life after basketball," writes Jackie MacMullan.
"There were highlights, like his freshman year when he dropped 24 points on Thomas More College. He was second on the team in scoring as a sophomore, but the team posted its first losing season in 15 years. In his junior season the trend continued, and Fenlon knew he needed to make a change. He turned to younger, more talented players on his roster."
Read more at ESPN.com.
Last month, Comcast SportsNet featured Stevens and Fenlon in a piece that aired before the Celtics' season opener. Read more here; an excerpt of the segment is embedded below.
Brad Stevens was also recently featured by the NCAA as part of its Division III 40-in-40 series.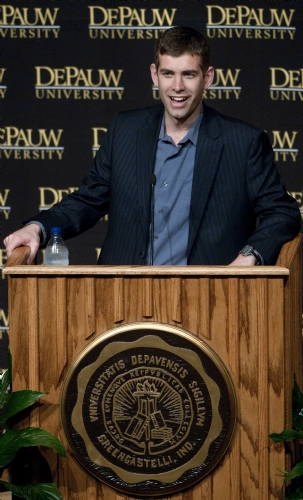 A Management Fellow and economics major at DePauw, Stevens was named the head coach of the Celtics in July, becoming the youngest current head coach in the NBA. He came to the pro game from Butler University, where he guided the Bulldogs to their first two appearances in the NCAA Division I National Championship game in 2010 and 2011.
At DePauw, Stevens played four seasons for Fenlon, earning all conference and academic all conference honors all four years. You can learn more about his college playing career here.
On April 13, 2010, Brad Stevens returned to his alma mater to deliver the Robert C. McDermond Lecture, telling an audience in Kresge Auditorium, "Surround yourself with the right people and focus on the right things and you can achieve well beyond what you thought you could."
Source: ESPN.com
Back