DePauw Orchestra Presents Thanksgiving Concert Monday Night
November 21, 2013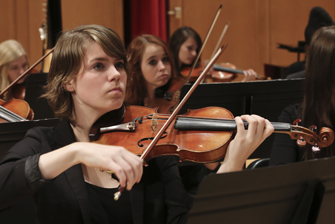 The DePauw University Orchestra, led by Professor Orcenith Smith, will present Maurice Ravel's arrangement of Modest Mussorgsky's Pictures at Exhibition at the ensemble's annual Thanksgiving week concert. The program takes place on Monday, November 25, at 7:30 p.m.in Kresge Auditorium, located within DePauw's Green Center for the Performing Arts.
The concert will open with performances of two unique opera overtures. First, audience members will hear a sneak peak of the DePauw Opera's spring production of Mozart's La Finta Giardiniera, a work the composer completed when he was just 18 years old. The orchestra will then perform the dramatic overture to Fidelio, Beethoven's only opera.
The highlight of the evening will be Mussorgsky's illustrious Pictures at an Exhibition.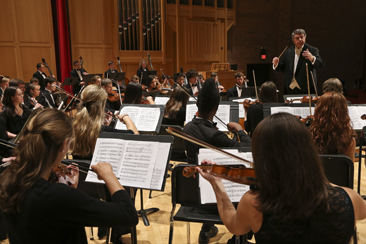 Originally written for solo piano in 1874, the ten-movement suite has become one of the most widely performed and treasured pieces in all of symphonic literature. The Russian was moved to compose the piece following the death of his friend Viktor Hartmann, the artist whose paintings inspired the stimulating musical ideas and themes embedded throughout the work. Over time, Pictures, in turn, inspired several orchestral arrangements by different composers, the most successful of which is by French composer Maurice Ravel. Even newcomers to classical music will enjoy Ravel's imaginative orchestrations, which revolutionized Mussorgsky's music in 1922.
"Thanksgiving begins an unusually emotional time of the year as friends and families gather for special events," notes Professor Smith. "Mussorgsky's Pictures at an Exhibition is filled with emotional references to memories of the composer's dear friend Victor Hartmann. The orchestra's Thanksgiving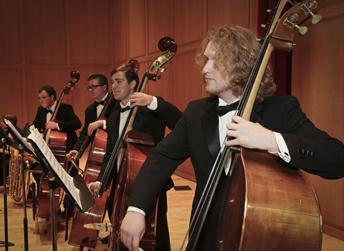 week concerts tend toward illuminating works that draw on or are inspired by this type of deep sense of emotional connectedness."
General admission tickets to DePauw University Orchestra concerts are $3. Tickets for all students, seniors and children are free thanks to season sponsors Judson and Joyce Green. To ensure that any person wishing to attend a performance is able to do so, a pay-what-you-can option is available, online and on request. To purchase tickets, visit www.depauw.edu/music/tickets or stop by or call the Green Center box office, (765) 658-4827.
Back