Indy Star Recaps Martin Luther King III's Ubben Lecture
November 22, 2013
"Fifty years ago, a boy came home from school and knew a cloud had passed over the nation -- a sudden change 'so palpable that even a 6-year-old could feel it,' " begins a story in this morning's Indianapolis Star. "It was Nov. 22, 1963, the day that president John F. Kennedy was shot and killed. "The boy looked to his father, civil rights activist Martin Luther King Jr., and asked, 'Daddy, President Kennedy was your best friend, wasn't he? Wasn't he, Daddy?' 'In a way,' Martin Luther King III said, reading from his mother's memoir, 'he was.' On Thursday, the evening before the 50th anniversary of the assassination, King re-lived the 'soul-shattering experience' with a crowd of about 500 people at DePauw University."
Stephanie Wang's summary of last night's Timothy and Sharon Ubben Lecture is accompanied by two color photos from the event. The online version offers a photo gallery featuring images by the Star's Rob Goebel.
"In his lecture, King recounted the tumultuous year of 1963 -- the triumphs of the March on Washington and nonviolent protests, against the tragedies of the 16th Street Baptist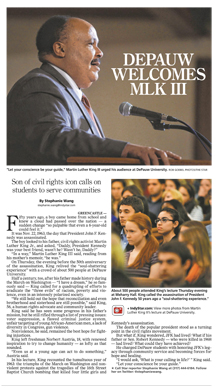 Church bombing that killed four little girls and Kennedy's assassination. The death of the popular president stood as a turning point in the civil rights movement. But what if, King wondered, JFK had lived? What if his father or Sen. Robert Kennedy -- who were both killed in 1968 -- had lived? What could they have achieved? He charged DePauw students with honoring JFK's legacy through community service and becoming forces for hope and healing. 'I would ask, what is your calling in life?' King asked. 'Let your conscience be your guide.' "
Access the article at IndyStar.com.
A summary of Martin Luther King III's DePauw address, including a video montage and links to photo galleries, is available here.
Created in 1986 through a gift by 1958 DePauw graduates Timothy H. and Sharon Williams Ubben, the Ubben Lecture Series was designed to "bring the world to Greencastle." You'll find a complete list of the nearly 100 Ubben Lecturers who have visited DePauw by clicking here.
Source: Indianapolis Star
Back