Former VP Dan Quayle '69 Joins TGen Foundation Board
November 26, 2013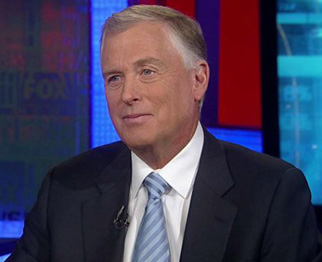 Dan Quayle, the 44th Vice President of the United States and 1969 graduate of DePauw University, has been elected to the board of directors of the TGen Foundation. Based in Arizona, the foundation is the fundraising branch of the Translational Genomics Research Institute, a non-profit organization which aims to translate genomic discoveries into advances in human health.
Jeffrey Trent, president and research director for TGen, previously served as scientific director of the National Human Genome Research Institute at the National Institutes of Health. "In 1990, the NIH and the Department of Energy joined with international partners in a quest to sequence all 3 billion letters in the human genome," Dr. Trent notes. "Vice President Quayle is acutely aware of the importance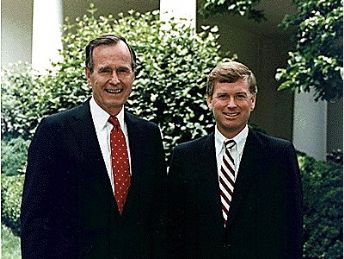 of this public effort, and remains an advocate for genomic research and what it means for our patients."
Adds TGen Foundation President Michael Bassoff, "He brings a powerful internationally recognized voice to advance TGen's scientific research."
"It is my honor to be selected to be a part of TGen and the phenomenal work this biomedical institute is doing to find better treatments for the most serious diseases affecting humanity," says Quayle.
Read more here.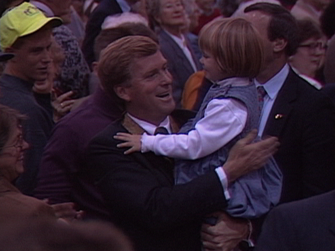 Quayle is chairman of the private equity firm Cerberus Global Investments. He was elected to two terms in each the U.S. House of Representatives and U.S. Senate before serving as vice president under President George H.W. Bush. A member of DePauw's Athletic Hall of Fame, Quayle captained the Tiger golf team and was a political science major.
On October 26, 1990, the vice president was awarded his alma mater's McNaughton Medal for Public Service. A video montage of that visit, which included a speech in a jam-packed Neal Fieldhouse, is embedded below.
In June 2012, Quayle and Vernon Jordan '57 spoke at a New York City event held as part of DePauw's 175th anniversary celebration. Learn more in this previous story.
Back