Prof. Matt Hertenstein's Research on Touch is Cited by Canadian Newspaper
November 29, 2013
"Thanks to mobile technology, it's a good era to be in a long distance relationship -- or is it?," begins an article in today's Calgary Sun. Simone Paget writes, "For better or for worse, smartphones have changed the way we manage our love lives by providing us with more ways to meet and connect than we ever thought possible. However with so much instantaneous communication right at our fingertips, it sometimes feels like we're more disconnected than ever."
The Canadian newspaper notes the new BOND bracelet, "allows you send mobile phone generated vibrations to your lover -- whether they're located in the other room or the other side of the globe. Like a high-tech friendship bracelet, each person wears one half of a set of bracelets or pendants which are synched up with either their iPhone or Android phone via Bluetooth. When one person touches their bracelet or pendant, it transmits a vibration (lasting between one and five seconds) to the other person's device, simulating the feeling of touch."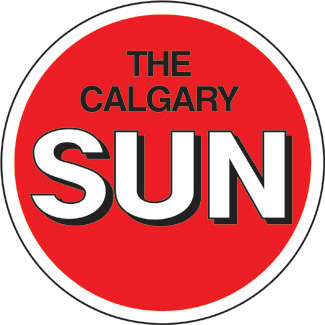 Paget reports, "Touch is a huge yet often overlooked part of our interpersonal relationships. In 2009, Matthew Hertenstein, a psychologist at DePauw University demonstrated that as humans, we have an innate ability to decode emotions via touch alone. As Hertenstein explains, scientists used to believe touching was simply a means of enhancing messages signaled through speech or body language. 'It seems instead that touch is a much more nuanced, sophisticated, and precise way to communicate emotions,' Hertenstein explains. As Hertenstein is careful to point out, we're living in a touch-phobic society. 'We're not used to touching strangers, or even our friends, necessarily.' he says. Could this be why I find this app so unsettling?"
Access the complete article -- "Mobile technology helps relationships, but doesn't replace touch" -- at the Sun's website (a subscription may be required).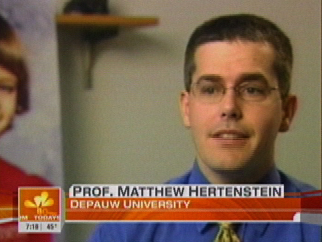 Matt Hertenstein, associate professor of psychology at DePauw University, is author of the new book The Tell: The Little Clues That Reveal Big Truths About Who We Are and the co-editor of The Handbook of Touch: Neuroscience, Behavioral, and Health Perspectives. His research on communicating through touch was featured in the April issue of O, The Oprah Magazine and Psychology Today, among other media mentions.
The professor also conducted widely-cited research on yearbook photos and how the emotions a person displays in the images can be a predictor of divorce later in life. He discussed that work November 12 on Fox News Channel's Fox & Friends.
Source: Calgary Sun
Back