Former Tiger Hoops Coach Royce Waltman is Cited
December 2, 2013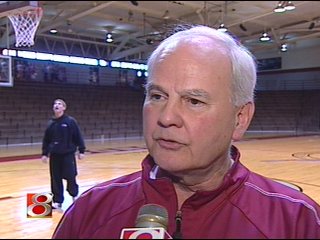 The Fort Wayne News-Sentinel invokes a quote from former DePauw University head men's basketball coach Royce Waltman in a story about the Indiana University - Purdue University at Fort Wayne basketball team. "A lot of schools play basketball, but very few have basketball teams," Waltman would say, emphasizing the final word.
Tom David writes, "What he meant was developing an unselfish group of talented athletes that worked diligently together in order to achieve tremendous success as a group, not as individuals. Illinois men's basketball coach John Groce, who used to compete against Waltman's teams when the coach was at DePauw and Groce was a player at Taylor, fully comprehends that, and he knows a basketball 'team' when he sees one. Groce saw one Friday in IPFW. The Mastodons scared the bejesus out of 15,638 fans (and Groce) at the State Farm Center in Champaign before falling 57-55. It was the third defeat for IPFW (6-3), all of which have come by a combined four points."
Read more at the newspaper's website.
W
altman served as head men's basketball coach at DePauw University from 1987 to 1992. His Tiger teams posted an overall record of 99-38 and the 1989-90 squad went to the NCAA Division III final game, losing by one point. Waltman was named the Indiana Collegiate Athletic Conference Coach of the Year that season and he went on to serve as head coach at Indiana State University.
Learn more in this previous article.
Back