The Internship Experience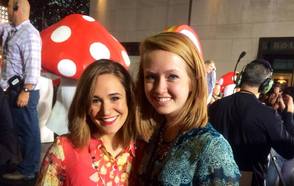 December 2, 2013
From working with producers behind the scenes on NBC's Today to modeling hair products on Today's Kathie Lee & Hoda, Stephanie M. Sharlow '14 is getting firsthand experience in just about every facet of production as an intern for a top-rated network television show.
"We get to see how our work directly affects the show on a daily basis," she says. Sharlow consults with producers on segments, interviews, shoots, editing and research. "We do just about everything, and it changes day to day. You don't have the same day twice, which I really enjoy."
Sharlow is a member of the Media Fellows Program, which was created at DePauw in 1992 and had its first graduating class of two students in 1993. Since then, the program has grown exponentially. 17 Media Fellows will graduate in May. A requirement is participation in a semester-long internship during the student's junior or senior year.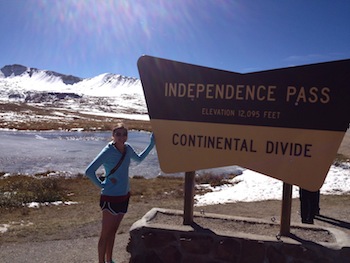 Media Fellow Abigail "Abby" S. Margulis '15 (at left) is writing stories, taking photos, designing and proofing pages for the Aspen Times in Colorado. "Each day I learn something new and am loving every minute of it," she says. "I have become a better reporter and writer as a result of working in a newsroom filled with incredibly talented people."
Margulis' internship duties also include Vox Pop, a photo opinion section for Aspen Times Weekly. "Each week I ask three people to answer the question of the week and take their photo. In addition, she has a weekly beat, Town Tattle, a short feature on a business, person or event in town in the weekly Snowmass Sun.
"I am so thankful to have this opportunity," Margulis says. "I have written a lot of cool and diverse articles." She even spent a day with a ski pro learning how to ski as part of an assignment.
For Margulis, the internship experience has confirmed for her that she wants to work in the newspaper business after graduation. "The Media Fellows Program has put me a step ahead in this field – from the seminar during freshman year, to the many speakers that have come to campus, to this internship," she explains. "I think more critically about all aspects of journalism. The program has given me opportunities that I wouldn't have gotten anywhere else."
This semester, five Media Fellows are participating in internships. Others include: LydiaR. Hayden '14 at Big Sky Productions in Cape Town, South Africa; Caleb E. Haydock '15, also at Big Sky Productions; and Julia P. Sobek '15 at Threeview in Munich, Germany.
Students arrange internships, which involve work in some aspect of the media, in conjunction with program director David A. Bohmer. A 1969 DePauw graduate, Bohmer has been both director of the Pulliam Center for Contemporary Media and Media Fellows Program for 20 years.
Alumni often come forward to offer internship opportunities, and Bohmer has called on some of them to help place students. However, he gives students most of the credit. "They have found many of these internships on their own," Bohmer says. "There are cases where our alumni have made it happen by opening up doors, and then we are able to continue. Sometimes it's been relationships I've had, but most of the time it's the student who figures out how to get the door open, and make something happen in the process."
Today has never turned down a DePauw student for an internship according to Bohmer. "There are three things that work well for us there and most other internships. Our students are there full time. DePauw students have a great work ethic, and we have established a long-term relationship with the internship coordinator at Today, he says.
Bohmer visits the internship coordinator every time a DePauw intern is there. In fact, he visits students each semester with the exception of Hayden and Haydock in South Africa. "It impresses the coordinator that we can visit because it sends the message that we take these internships seriously on our end, too," he says.
Sharlow says the Media Fellows Program and School of Music were huge selling points for her in choosing DePauw. "The fact that you're guaranteed a semester-long internship as a Media Fellow was important," she says.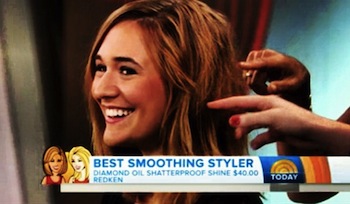 Sharlow (at right) knew her internship would be a great experience, but she was surprised that it influenced her career path. "I went into it thinking that I would still end up in public relations," she explains. "Once I started working, it changed my mind 100 percent. I have embraced everything that's been given to me, and I have taken serious advantage of the networking opportunities. Through doing that, it's become really clear to me that this is what I am meant to do, and I'm lucky that I took a chance and decided to do something a little bit different with my internship."
She plans to return to New York after graduation and eventually working as a producer or a booking producer.
"An internships doesn't always lead to a job at the company or organization where the student interned, but because of the student's experience there, an internship often leads to a position elsewhere," Bohmer says." For a lot of students, it's a lesson that they don't want to do that job, and that's every bit as valuable as deciding that is what they want to do."
Back