Shipping Now: 2013 Monon Bell DVD
December 9, 2013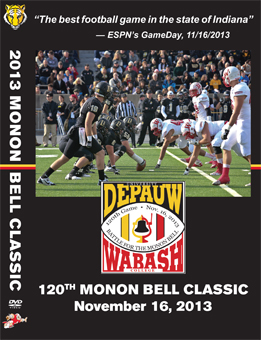 The DVD of November 16's 120th Monon Bell Classic -- including the game and packed with more than 2 hours of extras -- has arrived from the replicator and will begin shipping immediately.
Only 300 of the limited edition discs have been produced with 150 going to each school. They are available for $15. A $4 shipping and handling charge will be added to each order, regardless of size, as well as 7% sales tax to orders shipped within Indiana. Reserve your copy by accessing an online order form.
Wabash won the 2013 edition of one of college football's oldest rivalries, 38-21. The disc -- a joint project of DePauw and Wabash -- presents the game in widescreen and enhanced for 16x9 televisions. Also included are photo galleries of this year's clash between the Tigers and Little Giants as well as a collection of hundreds of historic images dating back to the rivalry's early days; "Monon Memories" of memorable contests; the music video for The Ballad of the Monon Bell; season highlights for both football programs; video of the October 12 dedication of Nick Mourouzis Field; and other features.
The 2013 game is the seventeenth contest in the historic series to be captured on DVD. Also available are the DVDs of the 1977, 1993, 1994 and 2000-12 Monon Bell Classics (supplies of past games are extremely limited and the 2006 and 2010 discs are sold out; the 2008 package is a two-disc set including all 115 "Monon Memories" produced to that date).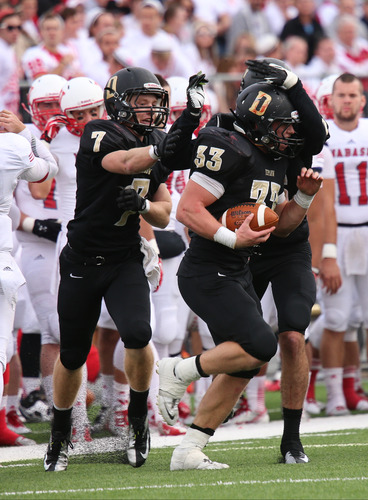 For coverage of the 2013 game, and to access a "Monon Memory" of the latest battle for the Bell, click here.
DePauw and Wabash first met on the gridiron in 1890. In the all-time series, the Little Giants hold a 58-53-9 lead. Since the Monon Bell entered the rivalry in 1932, Wabash leads, 39-37-6.
The Monon Bell Classic was voted Indiana's best college sports rivalry by fans of ESPN, and is the subject of a new book authored by Tyler James '11, The Monon Bell Rivalry: Classic Clashes of DePauw vs. Wabash. It was also noted on ESPN's College GameDay this year.
All 120 games to date are commemorated in video vignettes known as "Monon Memories." Created by Ken Owen '82, the clips can be found here and on YouTube.
Access DePauw's Monon Bell Web page here.
Back