Flynn and Sansone to Play in All-Star Contests
December 13, 2013
Greencastle, Ind.- DePauw seniors Barry Flynn (Indianapolis, Ind./Cathedral) and Nikko Sansone (St. Louis, Mo./St. Louis University H.S.) have earned the opportunity to represent the Tigers' football team in postseason all-star contests.
Flynn (pictured left) will be playing in the D3 Senior Classic tonight at 7 p.m. in Salem, Va., while Sansone will be competing in the Stars and Stripes game on December 21, in Mexico.
The North Coast Athletic Conference's football Newcomer of the Year, Flynn, put together one of the best offensive seasons by a DePauw receiver. He grabbed 71 receptions which ranks sixth in a DePauw season and 891 receiving yards which are ninth.
Flynn's 10 touchdown catches are tied for seventh and his three scoring catches against Wooster equaled a school record. He finished the season leading the NCAC in receptions, tied for third in TDs and is second in receiving yards.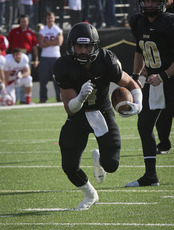 Sansone (pictured right) earned second team all-NCAC honors after rushing for a team-high 691 yards including a 200-yard effort in a win at Ohio Wesleyan. He also was the team's second-leading receiver with 17 catches. After moving from wide receiver to full-time tailback in week three, he averaged 95.0 rushing yards per game and 4.1 yards per carry.
The D3 Senior Classic will be presented as a pay-per-view broadcast at this link: http://www.d3football.com/videolink/d3-senior-classic
More information on the Stars and Stripes game is available at the Global Football website.
Back