Unproductive Congress is Hurting America, Opines Veteran Statesman Lee Hamilton '52
December 25, 2013
"The problem is that for too long, members of Congress have been working hard at everything except the one thing they should have been working hard at: legislating," opines Lee Hamilton. "They've been so unproductive that they've actually threatened our world standing and our domestic well-being."
A member of the U.S. House of Representatives for 34 years before retiring, Hamilton is a 1952 graduate of DePauw University. In a newspaper op-ed, he observes that Congress has been "moving incrementally. Gridlock is breached, but not broken. The likelihood is that Congress will pass a defense bill. It reached a small-scale budget agreement that undoes a bit of the damage caused by the sequester. It is finally starting to work through a list as long as your arm of judicial and executive-branch confirmations, but only because Senate Democrats decided they had to change the rules if they wanted to fill long-unfilled government appointments.
"Yet the list of what Congress hasn't done is sobering. There's no food-stamp reauthorization or waterways construction bill. It passed a one-month extension to the farm bill, but that falls far short of the certainty this< crucial economic sector needs. There's no lasting solution to the debt ceiling problem.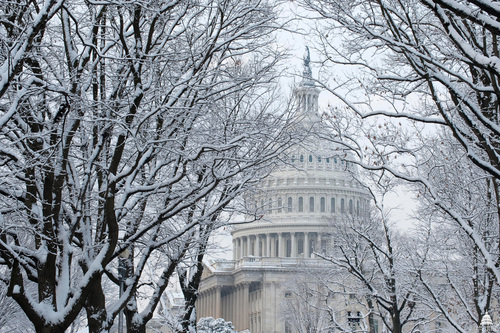 Almost nothing has been done about the fundamental gap between taxes and spending. It has left unemployment benefits unresolved, immigration reform unresolved, tax reform unresolved, and action on climate change unresolved. This lack of productivity makes me wonder if Congress can address truly hard challenges without a crisis before it."
The Democrat notes, "Mind you, some legislators take pride in how unproductive Congress has been. They argue that the less the government does, the better. But given Congress' pathetically low standing in the polls, it's clear that most Americans don't agree. They don't like incompetence, as their response to the botched rollout of the Affordable Care Act suggests, and they really don't like people who dodge their responsibilities, which is what Congress' ineffectiveness amounts to."
Read the full column at the website of Indiana's Muncie Star Press.
Now director of the Center on Congress at Indiana University, Lee H. Hamilton has remained active following his retirement from Congress, serving as vice chair of the 9/11 Commission and Iraq Study Group. The man called "Mr. Integrity" by Newsweek is the author of Strengthening Congress; How Congress Works and Why You Should Care; and A Creative Tension: The Foreign Policy Roles of the President and Congress.
A history major and basketball standout as an undergraduate, Hamilton has been a frequent visitor to DePauw over the years and delivered an Ubben Lecture on March 15, 2011.
Back