Number-One Tigers Win Amy Hasbrook Title with Win over Nationally-ranked Bombers
December 30, 2013
DePauw-Ithaca Box | Hanover-Alma Box | Tournament site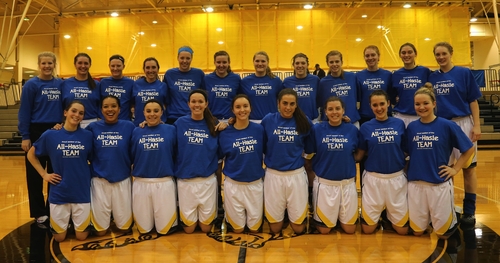 Greencastle, Ind. - Behind Savannah Trees' 21-point effort and Alison Stephens' second straight double-double, the top-ranked DePauw women captured the Amy Hasbrook Memorial Tournament championship with a 65-47 victory over #16/#18 Ithaca.
The Tigers improved to 10-0 with their 44th straight overall win and 63rd consecutive regular sesason victory, while the Bombers dropped to 6-2.
DePauw held a 14-12 lead midway through the half and expanded it to eight before both teams were scoreless over a 5:45 stretch of the half. The Bombers' Geena Brady beat the first-half buzzer with a layup to cut DePauw's lead to 27-18.
The Tigers countered with a 9-1 run to extend the margin back to 12, but Ithaca scored the next five to close the gap to single digits. Jenn Escobido's jumper with 6:43 left trimmed the DePauw lead to 49-41, but the momentum shifted quickly.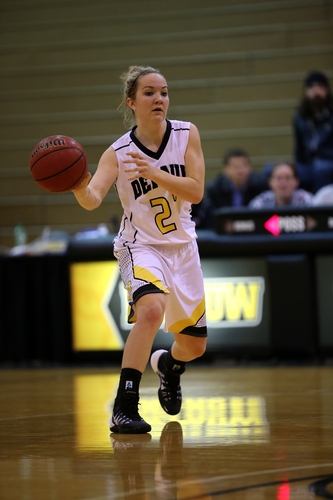 Trees (pictured right) and Ali Ross opened the second half with baskets to push the DePauw lead to 13, but the Bombers chipped away and closed the gap to 37-33 on Elisabeth Wentlent's layup with 13:09 remaining.
After Ithaca's Kathryn Campbell was whistled for a foul, the Bombers' bench was assessed a technical foul. Trees drained four straight free throws to make it 53-41 with 6:24 remaining.
Neither team scored over the next 2:38 before Stephens and Emma Ondik knocked in back-to-back threes and Stephens nailed a pair of free throws to give the hosts a 61-41 lead with just 2:22 remaining.
Trees, the tournaments most valuable player, scored 16 of her game-high 21 in the second half. Stephens equaled her career-high and matched Sunday's 12-point outing and hauled down 12 rebounds to earn a spot on the all-tournament team.
Francesca Cotrupe paced the Bombers with 11 points and 16 rebounds and Ithaca held a 41-33 advantage on the boards. Cotrupe and Mary Kate Tierney were also named to the all-tourney team.
The Tigers hit 38.9 percent from the field, while Ithaca shot 35.0 percent. DePauw outscored Ithaca from the line, 19-1, and committed just seven turnovers.
In the third-place game, Hanover improved to 4-6 following a 79-71 victory over Alma which sent the Scots to 0-12. Alma led by as many as 12 in the first half, but Hanover gained the lead with a 19-6 run. The Panthers never lost the lead in the second half and led by as many as 17 before the Scots closed the gap late.
Kelsey Block led Hanover with 16 points followed by Caitlin Bischoff and Ashley Malloy with 15 each and Jessie Davidson with 10. Davidson dished out five assists and Alicia Hopkins totaled six steals. Bischoff grabbed a team-high six boards.
Erica Hansen scored 22 and hauled down 10 rebounds for Alma with Mallory Pruett added 17 points an dfive steals. Faith Weier grabbed a game-high 12 rebounds for the Scots.
Bischoff and Pruett rounded out the all-tournament team.
DePauw returns to North Coast Athletic Conference play on Friday, January 3, when it travels to Allegheny for a 6 p.m. game.
Back