#1 Ranked Women's Basketball Team Honors 'Hasie' and Improves to 10-0
December 31, 2013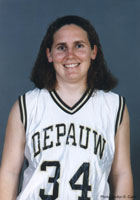 "Amy Hasbrook graduated from DePauw in 2000, but while her career records have been surpassed and the team has reached unprecedented heights since her era ended, Hasbrook remains an important part of the top Division III women's basketball program in the country," begins a column published in today's Banner-Graphic. Grant Wieman writes, "Hasbrook died in a house fire in 2002 but her impact on the Tigers' coaching staff and program has only grown in the years since. The Amy Hasbrook Memorial Tournament began in 2004 and has helped DePauw kick in the New Year since 2008-09."
The piece is accompanied by a photo showing the DePauw women in pre-game warmups with their shirts tucked in, which is how Hasbrook wore her Tiger uniform.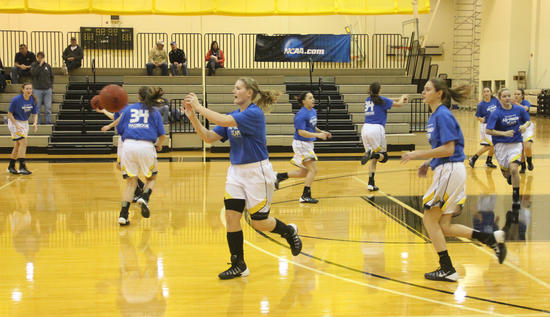 "Hasie", as she was called, wore #34. "Four players have worn the number since Hasie -- Colleen Powers from 2001-2005, Andrea Travelstead from 2005-2009, Kathleen Molloy from 2009-2013 and freshman Taylor Howard this year -- and each has had to carry the Hasie legacy," Wieman notes. "DePauw players don't generally choose their own numbers, partly because of a limited supply -- the Tigers don't have any single-digits or numbers in the 50s, so there's a maximum of 24 for the roster of 20 -- and partly because assistant coach Mary Smith assigns them with players in mind."
The #1-ranked Tigers -- who won the NCAA Division III national championship last spring with a 34-0 record -- improved to 10-0 yesterday by winning the Amy Hasbrook Memorial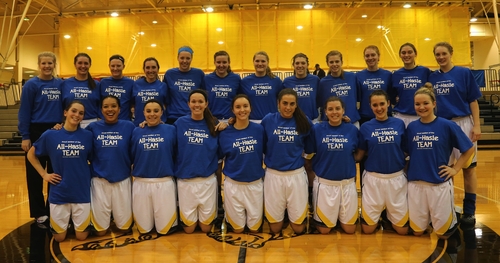 Tournament championship with a 65-47 victory over #16 Ithaca. Junior Savannah Trees, the tournament's most valuable player, said, "I know Amy Hasbrook was a huge part of the DePauw women's basketball team. It's great to be able to win it for her and (in memory) of everything she's done for DePauw."
Access the column at the newspaper's website. A game summary can be accessed here.
Back