DePauw Mourns the Passing of Prof. Emeritus Keith Opdahl
January 5, 2014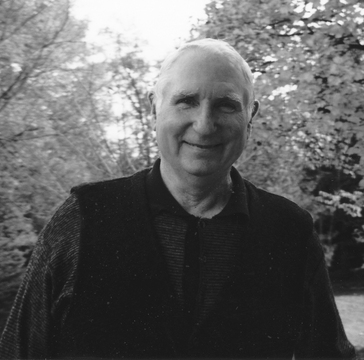 Keith M. Opdahl, professor emeritus of English at DePauw University, where he taught for 26 years, died December 31, 2013 from complications following surgery at the IU Simon Cancer Center in Indianapolis. He was 79 years old.
Born November 4, 1934, in Chicago, Opdahl earned his undergraduate degree from Denison University, where he was co-editor of the student newspaper and excelled on the debate team. He earned his M.A. and Ph.D. degrees in American literature at the University of Illinois, Champaign-Urbana.
Dr. Opdahl taught American literature and creative writing courses at the University of Wisconsin-Madison from 1961 to 1967. He joined the DePauw faculty in the fall of 1967 and over the years received several faculty development grants for literary research as well as teaching awards. In 1971-72, Opdahl was awarded a Fulbright Teaching Fellowship to the University of Coimbra in Portugal. In 1990, he was awarded DePauw's first Jane Cooling Brady Chair of American Literature.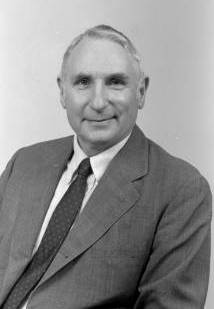 He retired from full-time teaching in 1992 but continued teaching at DePauw on a part-time basis and co-taught a leadership class with the University's 18th president, Robert G. Bottoms. Opdahl earned a reputation as an engaging, popular teacher who challenged his students and held them to rigorous standards. (at left: Keith Opdahl in 1990)
In 1967, Professor Opdahl published the first critical appraisal of Saul Bellow's work, The Novels of Saul Bellow. He developed a theory of the imagination based on a new understanding of emotion which resulted in the 2002 book, Emotion as Meaning: The Literary Case for How We Imagine. The professor was published in journals ranging from The Nation and Commonweal to Modern Fiction Studies and Texas Studies in Language and Literature, and his essays have been collected in The Dictionary of National Biography, Contemporary American Fiction, From Hester Street to Hollywood, Saul Bellow: Profils Americains, and Nineteenth Century Literary Criticism. (below: Prof. Opdahl in the classroom in 1980)
Keith Opdahl's survivors include his wife, Martha Donovan Opdahl, who was DePauw's art gallery director and university curator from 1987-98.
The Opdahl family welcomes friends and relatives to a remembrance gathering on Saturday, May 10, 2014,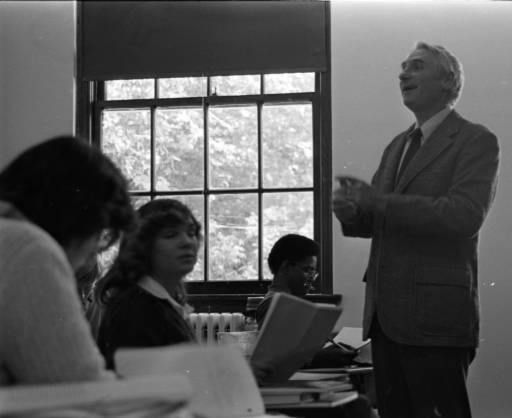 from 2-6 p.m., at the Prindle Institute for Ethics at DePauw University, located within the DePauw Nature Park (for directions, click here). In lieu of flowers, contributions may be made to the Keith M. Opdahl Memorial Fund for Contemporary American Fiction at Roy O. West Library, DePauw University. Mail contributions to 300 E. Seminary Street, Greencastle IN 46135 (memo: Keith Opdahl Memorial Fund).
Professor Opdahl's many colleagues, former students and many friends are also invited to visit a memorial website which has been created.
Back