Americans' Lack of Trust is Worrisome to Lee Hamilton '52
January 8, 2014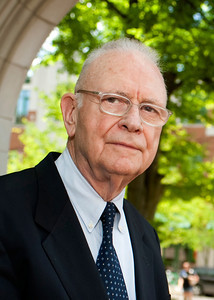 "Events in recent years have given us plenty of reason to be distrustful," according to Lee Hamilton, the 1952 DePauw University graduate who served 34 years in the U.S. House of Representatives. In a newspaper op-ed, the retired congressman writes, "Clearly, healthy skepticism is warranted in the wake of the NSA revelations, the problems with the rollout of the Affordable Care Act, and other evidence of both government and corporate misbehavior. In the end, however, 'trust but verify' is still the golden standard. Our ability to function and move forward as a society rests on trust. Think about it."
The Democrat begins the essay by noting, "Of all the numbers thrown at us over the course of last year, one stands out for me. I hope we can avoid repeating it this year. That number is 12. It's the percentage of Americans in a December Quinnipiac poll who said they trust the government in Washington, D.C., to do what is right most or all of the time. It's a depressingly small number -- especially compared to the 41 percent who say they 'hardly ever' trust the government. This meshes with recent polls that echo a bleak truth: trust in government is at historically low levels."
Hamilton notes, "That's not all, though. Americans are feeling vulnerable and highly distrustful of both government and private-sector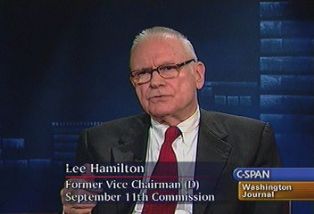 prying. More worrisome, a few months ago, an AP poll found that fewer than a third of Americans trust one another. The poll's message is clear: our society is in the midst of a crisis in trust."
A history major at DePauw, where he was a standout on the Tiger basketball team, Hamilton adds, "Trust is essential to our political system and our way of life. The belief that people and institutions will do what they say they will do is the coin of the realm in our society. It is what allows people to work together -- in their daily interactions with others and in their communities, legislatures and Congress. Negotiation, compromise, collegiality and the mechanisms our complex and diverse society depends on are impossible without trust."
Access the complete text at the website of the Rock River Times of Rockford, Illinois.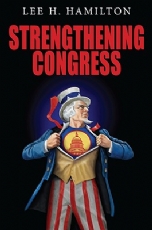 Now director of the Center on Congress at Indiana University, Lee H. Hamilton has remained active following his retirement from Congress, serving as vice chair of the 9/11 Commission and Iraq Study Group. The man called "Mr. Integrity" by Newsweek is the author of Strengthening Congress; How Congress Works and Why You Should Care; and A Creative Tension: The Foreign Policy Roles of the President and Congress.
He delivered an Ubben Lecture at DePauw on March 15, 2011.
Back