Trees Named to D3hoops.com Team of the Week
January 9, 2014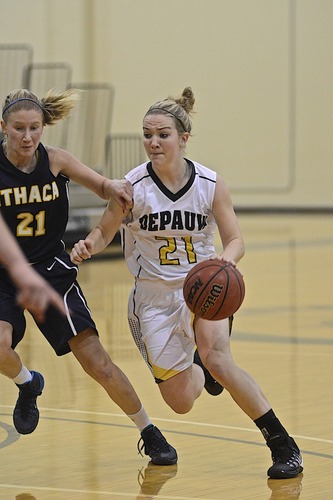 Greencastle, Ind. - DePauw junior guard Savannah Trees (Libertyville, Ill./Libertyville) has been selected to the D3hoops.com Women's Team of the Week for her performances in games from Dec. 30-Jan. 5.
In three DePauw wins, Trees averaged 18.3 points while shooting 52.6 percent from the floor and posting a 4:1 assist-to-turnover ratio.
She scored a season-high 21 points against 18th-ranked Ithaca in the Amy Hasbrook Memorial Tournament championship game and earned most valuable player honors. She then added 17 points each in North Coast Athletic Conference wins at Allegheny and Hiram.
The 13-0 Tigers are coming off a 63-38 win over Denison last night and return to action on Saturday, January 11, at Kenyon. The Ladies are paced by Maureen Hirt who also earned a spot on the D3hoops.com Team of the Week.
Back