Norwegian Lars Gjerde to Present 'Forbidden Organ Concert' Saturday
January 28, 2014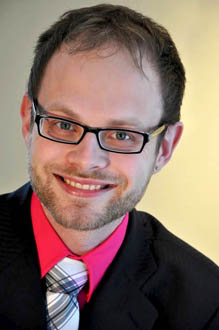 Norwegian organist Lars Gjerde will present a lecture-recital, "The Forbidden Organ Concert," at 7:30 p.m. this Saturday, February 1. Gjerde's program, presented by the DePauw University School of Music, will take place in Kresge Auditorium, located within the Green Center for the Performing Arts. It is free and open to all.
While often confined to its traditional use in the church, the organ -- considered the "King of Instruments" by Mozart in the 18th century -- became a vehicle of expression for three leading composers of the 20th-century avant-garde: the Frenchman Olivier Messiaen, Hungarian György Ligeti, and Norwegian Egil Hovland.
Messiaen influenced generations of composers with his progressive harmonic and rhythmical ideas. His Suite for Ascension Day (1933), first written for orchestra, brought radical sound right into sacred spaces when he arranged the work for organ. Ligeti caused shock and controversy in the world of organ music with his Volumina (1962), which consists solely of clusters of notes. Melodies, rhythms, and harmonies yielded to blocks and waves of sound created by fists and elbows sliding around the keys. Hovland found himself in a life-long struggle between his desires to be innovative and to communicate with a broader audience through his music. His Elementa pro organo (1965) remains a radical work for the organ, applying its thousands of pipes in refreshing and engaging ways.
These works caused scandals and concert cancellations, when they were first performed, making media headlines.
Gjerde, a native of Aure, Norway, recently earned his doctorate degree from the Eastman School of Music in Rochester, New York, where he researched and performed music for the organ from the wild 1960s. While at the Eastman School, he also received a master's degree and sacred music diploma.
Dr. Gjerde is director of music at Bethesda Lutheran Church in New Haven, Connecticut, where he is dean and 2015 regional convention coordinator for the American Guild of Organists. In addition to DePauw, his 2013–14 guest lecture and performance appearances include the EROI Organ Festival, Yale University, Augustana College, and the national convention of the American Guild of Organists.
While visiting the School of Music, Gjerde will speak with students and demonstrate some of the special organ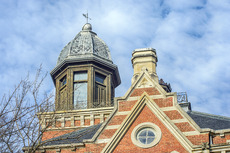 techniques and effects he will use in the performance. During the evening concert, he will provide historical commentary about the program and those in attendance will also be able to watch the performer's hands and feet in action.
"It's a very theatrical piece with wild gestures," writes Gjerde in an email, "and the visual aspect of the performance is very important." To enhance the theatricality of the work, a video camera will be placed at the organ console to provide a live feed to a projection screen to allow the audience to see exactly what the artist is doing.
Back