Deconstructing Utopia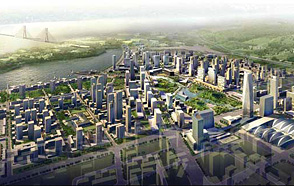 January 30, 2014
When Professor of History Glen D. Kuecker talks about the perfect storm, he's not talking about the weather – at least, not entirely.
Kuecker is one of a growing number of academics, scientists and policy makers sounding an alarm that the 21st century is a make-or-break time for civilization. Multiple large-scale issues – issues such as climate change, energy transition, food and water shortages, demographic shifts and economic stress – are coming to a head. Faced individually, maybe we push past them, but Kuecker thinks these crises are merging into what complex systems analysts refer to as a "wicked problem," a complex, knotted problem with no clear solution. He calls it the "perfect storm." The way Kuecker puts it, it's like having five large debts come due at the same time.
"You go bankrupt," he says.
Eagle-eyed readers are probably wondering why a Latin American historian turned his gaze toward the global future. A former director of DePauw's Conflict Studies program, Kuecker began to see globalization and the social issues connected to it as symptoms of a larger, systemic problem. Before long, his writing and teaching had gravitated to the topic. Kuecker says shifts in scholarship like his aren't uncommon at a small liberal arts college, particularly under the circumstances. "When research points to full-scale global collapse, an all-hands-on-deck mentality kicks in," he explains. "Your skills as a historian merge with other disciplines to give analysis to the problem."
Recently, Kuecker has been looking not just at how people are living, but also where. By 2050 the world's population is expected to grow to 9 billion people, and more than two-thirds of us will live in urban areas. This urban migration creates new challenges, but it also presents a big opportunity: If we can change the city, maybe some sunlight will shine through the dark clouds Kuecker sees on the horizon.
There has already been movement on this front. In China, for instance, the government plans to transplant 300 million people from rural areas to cities over the next 30 years. However, thanks to decades of prior urbanization efforts, China's cities are already bursting at the seams. Rather than adding to existing cities, the Chinese are building entirely new ones – by the hundreds. And the Chinese aren't alone. All across Asia, where most of the population growth is projected to occur, completely new cities have sprouted up.
Starting from scratch, city planners have unusual freedom to think about what these places should look like, and at the same time, a moment to reflect on what's broken. In Beijing smog has become so disruptive to daily life that the city's giant LED billboards have started displaying virtual sunrises and clear blue skies in place of the real thing. Designed differently – radically different – new cities might avoid these kinds of problems completely.
One such city is Songdo International Business District, or New Songdo City. All of New Songdo is less than a decade old, land included. At the turn of the millennium, the city's current footprint was a few feet below the Yellow Sea. With nearly $40 billion of public and private investments, New Songdo rose upward from the South Korean wetlands as one of the most expensive real estate developments in history.
New Songdo has been called a solution to many of the crises Kuecker has been writing about, but you wouldn't know it from afar. It's home to high-rise apartment buildings, a sprawling central park, a SUNY Stony Brook campus, a Jack Nicklaus golf course and the skyline-dominating Northeast Asia Trade Tower, the tallest building in Korea (below, left).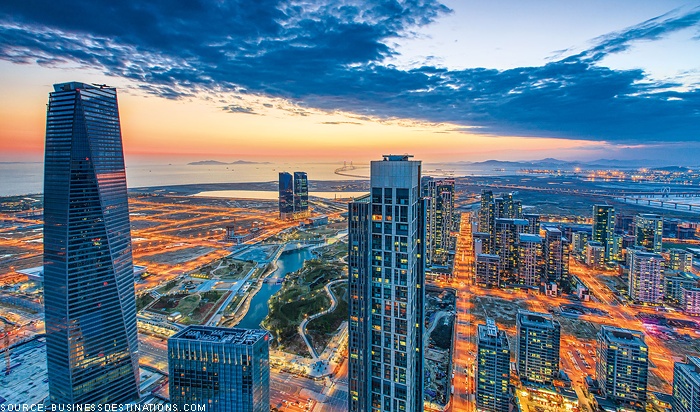 It's close up that you start to see some of what makes New Songdo so different. A pneumatic tube system collects waste throughout the city, keeping the sidewalks, alleys and streets clear of trash and garbage trucks. All of New Songdo's buildings are certified by LEED, an international green building rating system, and connected to a smart water network that separates and recycles waste water. Built centrally, nearly everything in New Songdo is reachable by foot.
Most people think that New Songdo will provide a high quality of life for its citizens. Its developer, New York-based Gale International, is thinking bigger. Gale hopes their design takes off so it can be an exportable model – maybe they can build a few dozen for the Chinese. There's just one problem, Kuecker says. "Nobody ever asked, 'Are these cities a good idea?'"
That question inspired Kuecker to break new ground at DePauw. Eco cities are only now beginning to be talked about in the college classroom, and Kuecker is leading the way.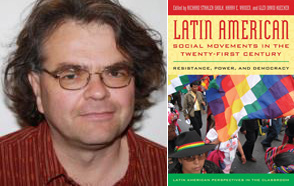 After returning from a sabbatical in 2012, Kuecker (left, with his 2008 book Latin American Social Movements in the Twenty-First Century) started taking a closer look at New Songdo and the eco-city phenomena with his students. They found that before its developers turned to eco-friendly systems, New Songdo was born from a vision for an international business hub, an "aerotropolis" connected by an umbilical bridge to South Korea's Incheon International Airport. While the sustainable design helped to cut down on water and energy use, New Songdo was built for lavish living from top to bottom, creating what was essentially a large gated community for those who could afford it. If New Songdo – or eco cities like it – was going to become a model for the city of the future, what would that mean for the average person?
Last spring, Kuecker continued on the project, creating an experimental research workshop investigating New Songdo City with then-seniors Kartik Amarnath '13 and Daniel J. Welsh '13, and first-year student Adam S. Folta '16, calling in professors from around the University to lend their expertise. That trial became the foundation of a 200-level research course Kuecker taught during fall semester and continued as an on-campus Winter Term course in January 2014. To the best of his knowledge, it's the only semester-long eco city course being taught at the undergraduate level.
"We're looking at these issues together," Kuecker says. "It's a research class, so the students are involved in creating knowledge. It's collaborative inquiry on a topic that nobody else is doing."
In a larger sense, what Kuecker has created is an academic loop: Students aid him in his research, which he publishes and presents at conferences, which brings recognition and resources back to DePauw. Kuecker has twice been invited to University of London's School for Oriental and Asian Studies (SOAS) to present and organize workshops based on the research his classroom teaching has informed – you can read an essay he prepared for an SOAS workshop here – and his work was recently published in Papers of the British Association for Korean Studies. Last September, one of his University-funded trips landed him at a conference organized by Richard Register, founder of Ecocity Builders and one of the fathers of ecological city design. "Two months later, Register was here in a classroom talking with students," Kuecker says.
This spring, his eyes fixed on the future, Kuecker is teaching the first urban studies course at DePauw. With urban growth quickly becoming one of the world's most pressing issues, Kuecker wants his students to leave college prepared for the challenge that awaits them.
If New Songdo isn't the answer to the perfect storm, maybe one of them will have a better idea.
Back