Relationship of JFK and Gen. David Shoup '26 Explored in New Book
February 6, 2014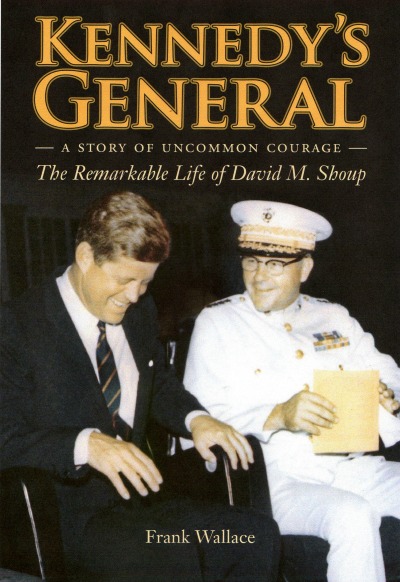 The February 2013 edition of Leatherneck, the magazine for United States Marines, includes a review of the new book Kennedy's General: A Story of Uncommon Courage - The Remarkable Life of David M. Shoup. Writen by Frank Wallace and published by Minuteman Press, the book details the relationship between President Kennedy and General Shoup, a 1926 DePauw University graduate who was awarded a Medal of Honor for his heroism at Tarawa and served as the 22nd Commandant of the Marine Corps.
"For Gen Shoup, education started in a one-room school and ended at DePauw University," writes Ed Vasgerdsian. "Little has been written on the relationship of President Kennedy and Gen Shoup, and yet it appears to have been close, a point implied by the cover photo of Kennedy's General ... What was it that drew these two men together? Gen Shoup was awarded the Medal of Honor, and both men earned the Purple Heart. The question remains: What was so unique about their relationship that the President singled out Gen Shoup's opinion along with what the Joint Chiefs of Staff offered? Both men were historically significant and connected by respect and trust during a time of extreme need. For those who recall the Cuban Missile Crisis and the Bay of Pigs, Ribbon Creek, and Tarawa, memories long forgotten may be rekindled."
Visit the magazine online.
On January 21, 1964, shortly after his retirement, Gen. Shoup was awarded the Distinguished Service Medal by President Lyndon B. Johnson for exceptionally meritorious service as Commandant of the Marine Corps. Shoup died on January 13, 1983 and is buried in Arlington National Cemetery.
In 2006, Investor's Business Daily noted that Gen. Shoup "was one of just four Marine four-stars to wear the Medal of Honor" and is "still one of the most quoted Marine generals." Further details can be found in this previous summary.
Back