Chaplain P.T. Wilson Discusses Emotional Byproducts of Cold, Snowy Winter
February 6, 2014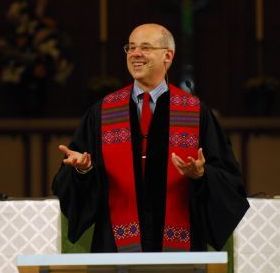 "In addition to the overabundance of snow this year, many parts of Indiana have received only three days of sunshine since Christmas," writes Lisa Trigg in the Terre Haute Tribune-Star. "That lack of sun can throw some people into sadness, anger or fear, explained P.T. Wilson of Greencastle, who is a pastoral psychotherapist with the American Association of Pastoral Counselors. Wilson is campus chaplain at DePauw University."

Trigg writes, "Adding to the seasonal funk may be the absence of a 'sweetheart' -- irritated by the approach of Valentine's Day. And a credit card dilemma may coincide with the national stress about debt ceilings. Too much snow -- about which no one can do anything -- may be the final stresser that causes people to make like a volcano and blow their tops."

Reverend Wilson tells the newspaper, "We're not only having all these snow storms, but we're having 'emotional pockets of unclarity.' We want to make decisions that are different than we have to make, and our frustrations
are rising because we feel boxed in."

The pastor at Gobin Memorial United Methodist Church, Wilson recommends, "Start by looking at the small things that you still have control over. What you eat, the amount of sleep you are getting, exercise, and find time to spend with your friends."
Access the full story at the Tribune-Star's website.
Learn more about P.T. Wilson in this previous story.
Source: Terre Haute Tribune-Star
Back