Philanthropic Work of Gabrielle Benson '05 is Spotlighted
February 16, 2014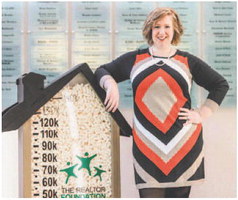 "Gabrielle Benson once described her dream job as being one where she could 'raise money and give it away'," notes today's Indianapolis Star of the 2005 DePauw University graduate. "So when she saw the opening for a manager of the Realtor Foundation, Benson didn't hesitate to apply. The foundation is the philanthropic arm of the Metropolitan Indianapolis Board of Realtors."

Jill Phillips writes, "Previously, Benson was the director of development and public relations at Girls Inc. of Greater Indianapolis. Prior to that, she was assistant director of development for the Indianapolis Museum of Art."
Gabrielle (Peek) Benson, who majored in women's studies at DePauw, tells the newspaper, "I've tried to be really strategic with every career move. I began my career at the IU Foundation and learned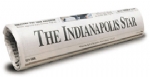 from some of the best fundraisers in the nation. I've since taken positions with the Indianapolis Museum of Art and Girls Inc. of Greater Indianapolis. With each move, I tried to absorb information and advice on nonprofit leadership."
Access the feature at IndyStar.com.
Back