Prof. Jonathan Nichols-Pethick Appointed Director of Pulliam Center, Media Fellows Program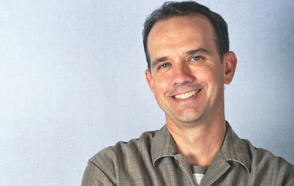 February 18, 2014
DePauw University Vice President for Academic Affairs Larry Stimpert announced today that Jonathan Nichols-Pethick, associate professor of communication and theatre, will assume the leadership of DePauw's Media Fellows Program and direct the Eugene S. Pulliam Center for Contemporary Media, effective July 1. David A. Bohmer '69, who has held both roles since August of 1994, is retiring at the conclusion of the current academic year.
"As we look to the future of media and embrace opportunities to further strengthen DePauw's support for the Media Fellows Program and the Pulliam Center, it is my honor to appoint Jonathan to his new role," said Stimpert. "As a highly accomplished scholar and administrator, he brings expertise with the theory and practice of media that makes him well positioned for this role."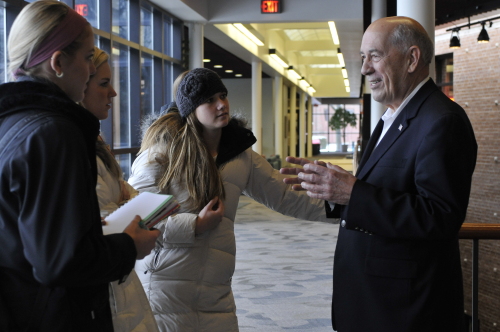 Dr. Stimpert added, "I look forward to partnering with him in the years ahead to further enrich DePauw's well-established legacy in media and journalism. From film, to music, public relations, journalism, and the media world's many other forms, DePauw alumni have left their mark as those who understand the media and how it works. I have no doubt that Jonathan's leadership will equip our students to be capable of affecting the quickly changing world of media and communication." (photo at left: ESPN founder Bill Rasmussen '54 chats with Media Fellows in the Pulliam Center)
Nichols-Pethick, who earned a Ph.D. in communication and culture from Indiana University, joined the DePauw faculty in 2002. He teaches courses in film and media – ranging from media history and criticism to television production. The professor directed the film studies program at DePauw for six years, has taught Media Fellows courses, and has been a member of the program's steering committee for the past eight years. He has also served on the advisory committee for the Janet Prindle Institute for Ethics.
"I had a lengthy and meaningful
conversation with President (Brian) Casey and I view this as an extraordinary opportunity to help shape the future of a center and program that I care deeply about," stated Nichols-Pethick. "Through my work with student media and with the Media Fellows Program, I've seen how DePauw can transform the lives of students, opening opportunities that they simply could not have imagined when they first set on campus. I am energized by the opportunity to work with our current students, our faculty, the Pulliam Center Advisory Board, and DePauw alumni to build on DePauw's history in media." (above: students at work at television station D3TV, located within the Pulliam Center for Contemporary Media)
Dr. Nichols-Pethick authored the book TV Cops: The American Television Police Drama (Routledge 2012). The professor has also written essays which have been published in Cinema Journal, The Velvet Light Trap, FLOW-TV, and the anthology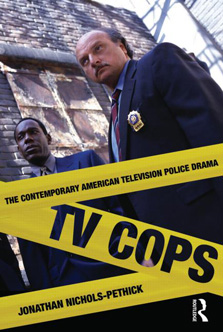 Beyond Prime Time (Routledge 2009). He also produced and edited a short film, Mud Lotus (which was written and directed by DePauw English Professor Chris White) in 2013.
Prior to embarking on an academic career, Jonathan worked as a musician and as an associate producer of the morning news program at WCSH-TV, the NBC affiliate in Portland, Maine.
Coordinated through DePauw's Pulliam Center for Contemporary Media, Media Fellows is an honors program designed for students who plan a career in the media and communications related areas. Students in this program serve semester-long internships in news media and communications organizations around the country.
In making today's announcement, Stimpert also thanked Dave Bohmer for his long-time leadership of the Program and Center. "DePauw owes a debt of gratitude to Dave Bohmer for his leadership of the Pulliam Center and the many students he has positively influenced in the 20 years he has served in the role," the academic vice president said.
Founded in 1837, DePauw has a long tradition of producing some of the nation's leading media practitioners. Among DePauw's alumni are Pulitzer Prize-winning New York Times columnist and best-selling author James B. Stewart '73; ESPN founder Bill Rasmussen '54; FOX News anchor Bret Baier '92; Wall Street Journal editor Bernard Kilgore '29, named "Business Journalist of the Century"; Kenneth Hogate '18,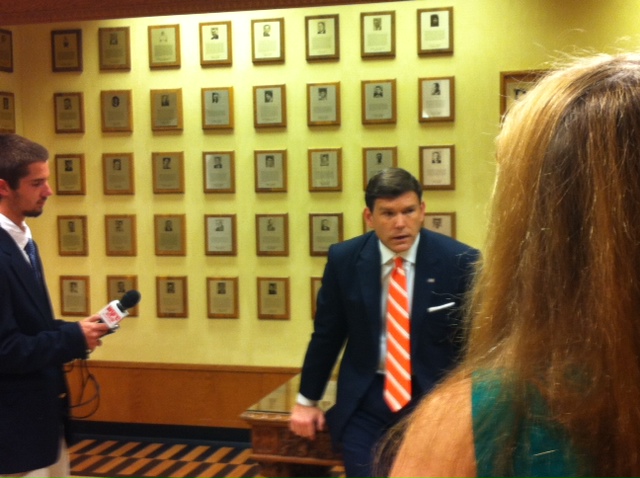 who became president and chairman of Dow Jones, Inc.; CNBC technology editor Jon Fortt '98; Eugene C. Pulliam '10, owner of 46 newspapers over the course of his career, including the Indianapolis Star and Arizona Republic; and John McWethy '69, longtime ABC News correspondent, to name a few. (at right: Bret Baier meets with student reporters during an October 2013 visit to campus)
The Society of Professional Journalists, the nation's largest journalism organization, was founded by DePauw students in 1909. The nation's first 10-watt educational FM radio station was started at DePauw as was Indiana's first college newspaper.
Back