DePauw Earns All-Academic Honors; O'Brien Honored for Second Straight Year
February 18, 2014
Greencastle, Ind.- The DePauw men's and women's cross country teams have been named 2013 Division III All-Academic Cross Country teams by the U.S. Track & Field and Cross Country Coaches Association.
To qualify as a USTFCCCA All-Academic Cross Country team, the team must have competed and compiled a team score at an NCAA regional meet and have a minimum 3.10 team cumulative grade point average.
The men's team was one of 146 institutions to earn the honor with a 3.18 first semester grade point average.
The women's team was one of 215 institutions to be honored with a 3.45 first semester grade point average.
DePauw was one of 141 schools to have both cross country teams honored.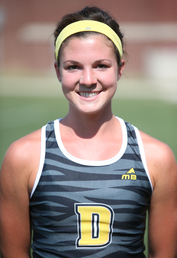 Sophomore Heather O'Brien was named to the All-Academic team as an individual. To qualify, O'Brien had to have compiled a cumulative grade point average of 3.30 through the most recent semester and placed in the top 35 at the NCAA Regional Championships.
O'Brien, a kinesiology major, maintained a 3.86 grade point average through the fall semester and is being honored for the second straight year.
Back