Craig & The Crawdads Here for March 6 Performing Arts Series Concert
February 26, 2014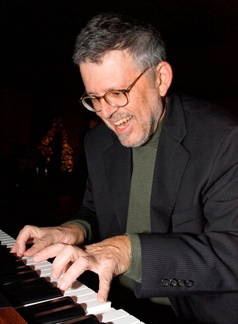 DePauw University's Performing Arts Series welcomes Craig & the Crawdads, a New Orleans-style, six-piece band, to campus next Thursday, March 6. The free concert will take place at 7:30 p.m. in Thompson Recital Hall, located in the Judson and Joyce Green Center for the Performing Arts.
Led by Craig Brenner on piano, the Crawdads play a wide range of music, including zydeco, blues, swing, rhythm and blues, boogie woogie and jazz. A performer and composer in the style of Professor Longhair, Brenner and he is backed by the Crawdads on drums, bass, saxophone, accordion, guitar and percussion.
"If anything negative could be said about Wednesday night's performance at Second Story, it would be that the dance floor was too small to hold all of the people who needed to use it," wrote Mike Leonard in a Bloomington Herald-Times review of a Craig & the Crawdads performance in that city. Brenner is an Indiana University School of Music graduate and he and his band have been named on several "best of" lists in the Bloomington Independent.
For more information click here or contact Ron Dye, coordinator of the Performing Arts Series, at rdye@depauw.edu.
Back