Blake Mycoskie Postpones Visit to DePauw
March 1, 2014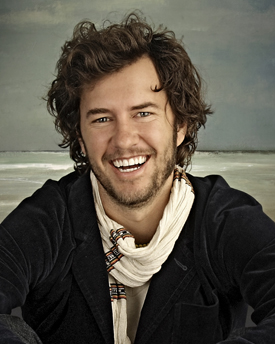 Tomorrow's scheduled Ubben Lecture at DePauw University by Blake Mycoskie, the founder and "chief shoe giver" of TOMS, has been postponed. With a Winter Storm Warning in effect for much of central and southern Indiana from 1 p.m. Sunday to 7 a.m. Monday, Mycoskie -- who was planning to fly to Greencastle from the West Coast Sunday afternoon for his evening speech -- decided to forgo the trip.
"I want to express my deepest regrets for not being able to make it to your historic campus this weekend," Mycoskie stated. "Unfortunately, as you likely know by now, the weather is expected to be awful and the snow is preventing my flight from getting me there safely. I've been excited about visiting you for quite some time, and I look forward to rescheduling my visit during a warmer month when there is no risk of snow or ice. Please be safe this weekend, whether driving or walking.
The social entrepreneur added, "See you soon, and carpe diem."
Attempts will be made to reschedule the event for a later date.
"This is disappointing, to be sure, but is understandable given a forecast that is calling for as much as 10 inches of snow and sleet," stated Ken Owen '82, executive director of media relations at DePauw, who coordinates the Ubben Lecture Series. "I send my regrets to the many students, alumni, faculty and staff, and prospective students and their families who were looking forward to hearing from Mr. Mycoskie, and hope it's possible that we're able to make this happen at a later date."
It marks the first time since 2004 than an Ubben Lecture has been canceled. Former Israeli Prime Minister Shimon Peres, a Nobel laureate who first delivered an Ubben Lecture

in 1996, was scheduled to speak on March 31, 2004. Ten days before the event, he was forced to scrap his trip to the U.S. because obligations as head of Israel's Labor Party forced him to stay in his homeland.
Mycoskie's visit was planned for months and announced in December.
"We've had nearly 100 Ubben Lectures since the series was founded 28 years ago and these instances are very rare," Owen added.
Established in 1986 through the generous support of 1958 DePauw graduates Timothy H. and Sharon Williams Ubben, the Ubben Lecture Series was designed to "bring the world to Greencastle." Three Ubben Lectures have been presented during the current academic year: human rights advocate Martin Luther King III spoke on November 21; Fox News Channel anchor and 1992 DePauw graduate Bret Baier visited on October 12; and former congressman and three-time presidential candidate Ron Paul delivered a September 10, 2013 speech.
Previous Ubben Lecturers have included Bill Clinton, Margaret Thatcher, Mikhail Gorbachev, Elie Wiesel, Benazir Bhutto, Tony Blair, Spike Lee, Jane Goodall, Ross Perot, Peyton Manning, Barbara Bush, Oscar Arias, General Colin Powell, Paul Rusesabagina, James Lovell, Jimmy Wales, Willy Brandt, Ken Burns, John Major, Jane Pauley, Ambassador L. Paul Bremer, F.W. de Klerk,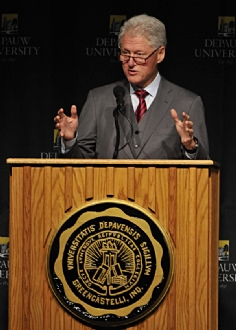 General Wesley Clark, David McCullough, George Will, Andrew Young, Lee Hamilton '52, ice cream entrepreneurs Ben Cohen & Jerry Greenfield, Gwen Ifill, David Ho, Bob Woodward, Bill Bradley, Paul Volcker, Seymour Hersh, Doris Kearns Goodwin, Karl Rove, Howard Dean, Ralph Nader, Mike Krzyzewski, Leymah Gbowee, David Gergen, Todd Rundgren, Oliver Sacks, Carl Bernstein, Alan Simpson, Julian Bond, Harry Belafonte, Sam Donaldson, Jason Reitman, Candy Crowley, Paul Tsongas, William J. Bennett, Sister Helen Prejean, Mitch Albom, Rebecca Skloot, Naomi Wolf and many others.
To view a complete roster of Ubben Lecturers -- which includes links to video clips and news stories -- click here. Video montages of many events are available on YouTube.
Back