Defending Champion Tigers Prepare for 11th Straight NCAA Basketball Tournament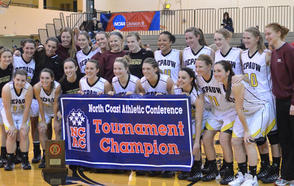 March 6, 2014
"I guess we're chasing perfection," says DePauw University head women's basketball coach Kris Huffman said. She is quoted in a Banner-Graphic article summarizing DePauw's victory over Denison in the North Coast Athletic Conference championship game and the team's preparations for the NCAA Division III tournament, which opens this weekend.
The Tigers, 27-1 on the season, are the defending national champions and are making their eleventh consecutive tournament appearance. They open play versus Claremont-Mudd-Scripps in the first round tomorrow at 7 p.m. at DePauw's Lilly Center.
"You never catch it because it keeps moving, but we ask questions: Can we get more consistent defensive efforts? How close can we get to having a flawless game from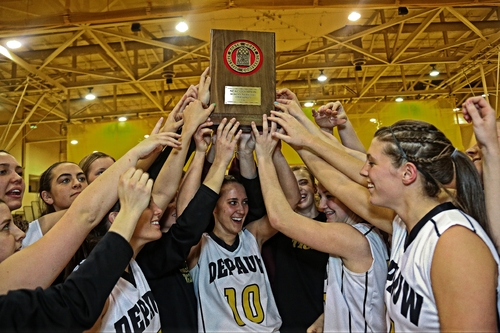 a positioning standpoint? Can we lock down the rebounds?," Huffman tells the newspaper. "We get picky but that's what it takes to beat the great teams when games come down to a possession or two. We want to find out how good we can be possession by possession."
Read more here or visit the official online home of the women's basketball program.
The Tigers were the subject of a February 26 feature on Indianapolis Fox affiliate WXIN-TV, which is embedded below.
The team was also recently featured in the Indianapolis Star and on Indianapolis NBC station WTHR-TV.
Back