2014 Grammy Nominee Mary Lambert (Same Love) at DePauw April 8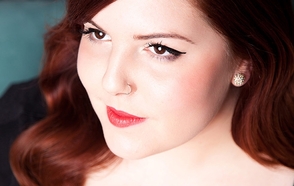 March 14, 2014
Mary Lambert, whose hit song Same Love was nominated for two 2014 Grammy Awards, including "Song of the Year," will bring her talents to DePauw University on Tuesday, April 8. The singer-songwriter will perform in concert in Thompson Recital Hall, located within the Green Center for the Performing Arts (605 S. College Avenue) at 7 p.m. The show is free and open to the public; seating will be available on a first-come, first-served basis.
A collaboration with the hip-hop duo Macklemore & Ryan Lewis, Same Love is an anthem about gay rights and marriage equality. It features lead vocals by Lambert, who co-wrote the song. The track reached double platinum status in the U.S., reaching #11 on the Billboard Hot 100 chart, and became a top ten single in six countries. Lambert performed the track with Macklemore & Ryan Lewis at the Grammy Awards ceremony on January 26, 2014, and was joined onstage by Madonna.
Last month, Lambert's debut single She Keeps Me Warm began getting radio airplay.
"She grew up poor in Everett, Wash., was given a diagnosis of bipolar disorder, and went through a period of drug
and alcohol abuse, a time, she said, when she was struggling to come to terms with a series of traumas, including a gang rape at 17, and a pattern of molestation by her father when she was a small child," noted the New York Times in a November 2013 profile. "She now deals directly with these things through her art, especially her poetry, some of which she collected in a recent chapbook, '500 tips for fat girls,' full of severe and humane poems. She also uses her poetry during her live shows, to devastating effect. 'I want to create a safe space for people to feel like they can access these things that they don't usually access, which is a lot to ask for at a show,' Ms. Lambert says, describing her concerts as places of 'mutual health and nourishment.' "
Lambert is now signed to Capitol Records. "Same Love certainly brought her to our attention, but when we looked further, we saw an incredibly gifted singer/songwriter and spoken-word artist," says the label's executive vice president, Greg Thompson. "We thought that hers could be a real important voice."
DePauw has a long history of hosting concerts by influential popular musicians. Recent visitors have included Fitz and The Tantrums, Third Eye Blind, Jack's Mannequin, Gavin DeGraw, the Black Eyed Peas, Mike Posner,
Lupe Fiasco, Ben Folds, The Roots, Howie Day, Guster, Ben Kweller and Rufus Wainwright. Past guests such as Dave Matthews, Smokey Robinson and the Miracles (pictured at right performing in Bowman Gymnasium), the Four Tops, Harry Chapin, the Isley Brothers with Jimi Hendrix, Psychedelic Furs, Pure Prairie League, Billy Joel, The Byrds, America, Chiddy Bang, the Carpenters, Maynard Ferguson and the Temptations have also performed on campus. Additionally, singer/songwriter/producer Todd Rundgren presented an Ubben Lecture at DePauw in April 2009.
Back