'Elite Eight' Basketball Loss Draws Media Coverage
March 15, 2014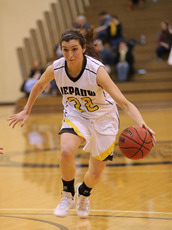 "Alex Gasaway led the Tigers with 20 points," noted Rich Nye on WTHR's late newscast tonight as he voiced over highlights of DePauw's 88-71 loss to Wisconsin-Whitewater tonight in the NCAA Division III semifinals.
The loss dashed DePauw's hopes of repeating as the national champions of women's basketball and ended their season at 30-2.
The 13th-ranked Warhawks improved to 26-4 and advance to the Final Four of Division III.
Also on hand for the tournament game tonight was WRTV. The ABC station's Brad Brown presented footage from the Lilly Center in that station's 11 o'clock newscast.
The Indianapolis NBC affiliate was also on hand for last night's DePauw victory over Carthage College. Learn more, and access highlights, in this previous story.

For a summary of tonight's game and much more, including statistics, visit the official online home of the women's basketball program.
Source: WTHR (NBC) & WRTV (ABC)/Indianapolis
Back