UPushStart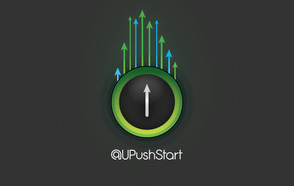 March 20, 2014
The largest entrepreneurial event ever hosted by DePauw, UPushStart, the DePauw Startup Institute is scheduled on April 4-5 in the Memorial Student Union Building ballroom. While there is no cost to attend, registration is encouraged at UPushStart.org.
Coordinated by Frank Hu '14 and Walker H. Chance '14, graphic design work by Elizabeth G. Hineman '14 and sponsored by DePauw Student Government, UPushStart is an opportunity for students to learn what it takes to be a successful entrepreneur.
"We see huge companies being built, and as students we want to be a part of it," Hu explains. "I know many students have good ideas. The weekend will be for them to try and build an idea into a product by collaborating with other students on campus and with professionals outside of DePauw."
Members of the winning pitch team will each receive not only an iPad, but also the opportunity to have lunch or dinner with DePauw President Brian W. Casey. The second and third runner-ups will each receive Kindle Fire tablets.
The event offers something for everyone. Hu explains that while the Institute focuses on startups, it encompasses more than just the nuts and bolts of business. "When people think of startups, they might think of Twitter or Facebook, but my definition includes people who are driven – any community member or student organization leader who is able to take the first step in anything they do," Hu says. "Many of the leaders we've invited might be involved in a startup, or might be someone who is just extremely ambitious and has done a lot with his or her life."
An impressive lineup of DePauw alumni and special guests will participate and share their insights on business, including Jason E. Becker '04, COO at RICS Software and DyKnow, cofounder of Remember LLC; Mike W. Langellier '04, president and CEO at TechPoint and TechPoint Ventures, Inc.; and Kyle S. Smitley '07, cofounder of Detroit Achievement Academy and founder of Barley & Birch.
Hu and Chance hope students will take advantage of the opportunity to network with the invited guests by attending panel discussions, lectures and participating in one-on-one sessions.
For a complete list of returning alumni and special guests as well as a schedule of events, go to UPushStart.org.
As a participant and coordinator of Startup Weekend in Indianapolis for the past two years, Hu (below, second from left) wanted to bring the experience to DePauw. "What we're trying to do is engage students in a startup community, as well as broaden their horizons to see what opportunities are out there."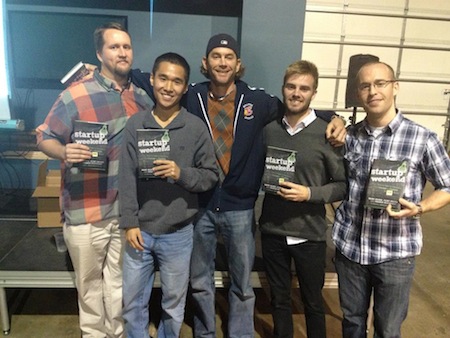 The Indianapolis event is part of a growing nonprofit organization based in Seattle, in which all of the events follow the same basic model. The website states that participants pitch a startup idea and receive feedback from their peers. Teams form around the top ideas as determined by popular vote. Then it's a 54-hour frenzy of business model creation, coding, designing and market validation. The weekends culminate with presentations in front of local entrepreneurial leaders with another opportunity for critical feedback.
Startups can be high-risk ventures, and that's largely part of the appeal. Hu says there is also the potential for individual growth. "Startups offer the opportunity to present new ideas with the potential to change the world versus going into an industry where you just keep the wheels going," Hu says. In a startup, you have the chance to rework an entire system.
Hu cautions, "Sometimes people get caught up in the glamour of it all. In all likelihood, if you're aiming for fame or money, it probably won't happen, but if you're going into it to enjoy the process, it's very worthwhile."
Back