DePauw Theatre Season Closes with Shakespeare's The Comedy of Errors
March 31, 2014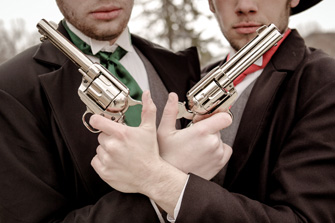 DePauw Theatre presents a Wild West version of one of William Shakespeare's early plays, The Comedy of Errors. The production opens Thursday, April 10 at 7:30 p.m. in Moore Theatre located in the Judson and Joyce Green Center for the Performing Arts. Shows continue on April 11 & 12 at 7:30 p.m. and an April 13 matinee at 1 p.m. (at right: Evan Hart and Ben Crider)
Directed by Andrew Hayes, associate professor of communication and theatre and chair of the department, the show follows the comic tale that unfolds when not one, but two sets of identical twins that were separated shortly after birth suddenly find themselves in the same city. Against the backdrop of the American West of the 1870s, Antipholus and Dromio of Omaha find themselves in Monterey, California, where wives mistake husbands, masters mistake servants and general mayhem ensues.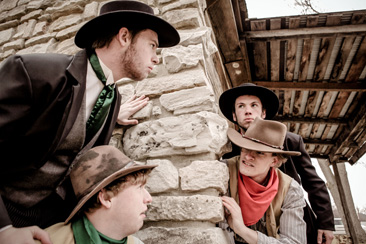 This is Shakespeare's shortest and one of his most farcical comedies, with slapstick and mistaken identity, puns and word play.
Join the cast and crew for an opening night reception following the April 10 performance in the Great Hall, and on April 11 for a talk-back session. (left: Ben Crider, Jeremy Boyd, Evan Hart and Carter Gorman)
Tickets are $6 for general admission and $3 for students. To purchase tickets, visit www.brownpapertickets.com/event/559609.
For more information about DePauw Theatre, click here.
Back