Ashley Conard '14 Will Conduct Computational Biology Research in Belgium with Fulbright Award
April 2, 2014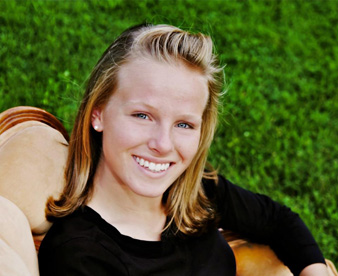 DePauw University senior Ashley M. Conard is the recipient of a Fulbright U.S. Student scholarship and will conduct research and study in Belgium during the 2014-15 academic year. The Fulbright Award will support Conard's computational biology project, "Deducing protein design rules for domain-peptide interactions."
"What if humans could change a protein's function to inhibit an illness from spreading?," asked Conard in her application for the prestigious scholarship. "We now can, through data-driven computer modeling of protein design and interactions. The more we know about protein design rules, the easier it becomes to create proteins that alter cellular functions, leading to the creation of better targeted drugs and personalized therapeutics."
A computer science major and French minor at DePauw, Conard will spend the upcoming academic working under Dr. Tom Lenaerts, co-director of the Machine Learning Group (MLG) at Université Libre de Bruxelles, where she interned as a college sophomore. "While there, I created a program to

analyze the binding rules for the Fyn SH3 protein domain," she notes. "Since I left, MLG joined the new Interuniversity Institute of Bioinformatics in Brussels, enabling stronger research collaborations between the Flemish and Walloon people. I am eager for my research to diffuse to a larger community."
As a Fulbright Scholar, Conard states, "I aim to apply machine learning and game theory techniques, using biological network models and big data analysis to explore protein design. My relevant internships and language skills in French, Spanish, Dutch, and Mandarin will help me pursue graduate school in computational biology, and in my future career working for an international biomedical company. Therefore, this is the ideal time to pursue the Fulbright Research Grant and direct my graduate research focus."
Noting that "the Fyn protein is involved in critical processes such as cell growth regulation, fertilization, and immune responses," Conard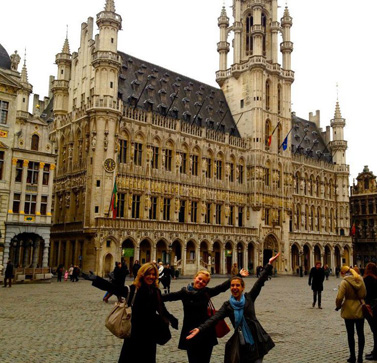 says that "mutating the Fyn protein can lead to suspension of cancer cell proliferation ... At MLG, I developed a program using Bayesian classification from Machine Learning and the Shapely value calculation from Coalitional Game Theory to quantify the importance of seven SH3 core amino acid positions needed to boost specific Fyn activity. My results show that this calculation accurately discloses the distinct amino acid positions needed for Fyn to bind to different peptides. Further research is needed to form design rules about the specific amino acids in each position required to change Fyn's function. This is akin to how a soccer coach must match his players to positions to win the game. If the goal is to stop cell division, the SH3 core must contain specific players, or amino acids, in the best positions to inhibit certain peptides from binding. The same techniques can be used to analyze other protein domain families." (above right: Conard and friends in Belgium during her study abroad experience two years ago)
In addition to her research, Conard will enroll in a Flemish course and take classes in Statistics of Machine Learning and Bioinformatics to facilitate her research.
"This Fulbright experience will provide an otherwise unattainable opportunity to sharpen my analytical skills and focus my interests prior to the pursuit of my Ph.D.," Conard wrote in her application for the award. "Moreover, it provides me with the means to make a significant impact in computational biology, and pursue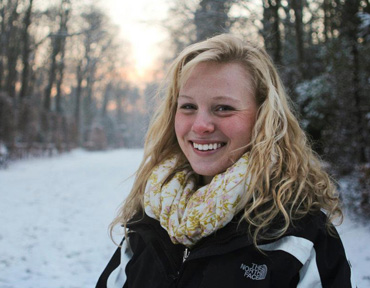 my passion. My ultimate goal is to understand biological systems to improve the human condition, and Dr. Lenaerts' lab is on the cusp of this innovation. Comprehending protein design allows scientists to create useful proteins that can help fight disease and stop cell proliferation. Think about a sick brother or an infected population. This research has local and global impacts. "
Sponsored by the U.S. Department of State, the Fulbright U.S. Student Program is the largest American international exchange program offering opportunities for students and young professionals to undertake international graduate study, advanced research, university teaching, and teaching in elementary and secondary schools worldwide. Fulbright student grants aim to increase mutual understanding among nations through educational and cultural exchange while serving as a catalyst for long-term leadership development.
The Fulbright U.S. Student Program currently awards approximately 1,800 grants annually in all fields of study, and operates in approximately 155 countries worldwide. Fulbright full grants generally provide funding for round-trip travel, maintenance for one academic year, health and accident insurance and full or partial tuition. Since its inception in 1946, the Fulbright Program has provided more 325,000 participants, chosen for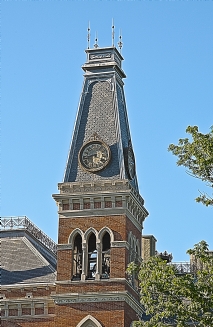 their leadership potential, with the opportunity to observe each others' political, economic and cultural institutions, exchange ideas, and embark on joint ventures of importance to the general welfare of the world's inhabitants.
DePauw University is listed among the "Top Producers of Fulbright Awards for U.S. Students, 2013-14" in the Chronicle of Higher Education. DePauw was also cited as one of the USA's top producers of Fulbright Fellows in the publication's 2012, 2011, 2009, 2008, 2007 and 2006 listings.
See the names of DePauw's Fulbright recipients here or visit the University's Fulbright page.
DePauw students and alumni who are interested in applying for Fulbright Awards may contact Humberto Barreto, Elizabeth P. Allen Distinguished University Professor and professor of economics and management, or Kate Knaul, director of global opportunities and assistant dean of academic life.
Back