School of Music Concerto Competition Winners Perform with DePauw Orchestra Sunday
April 1, 2014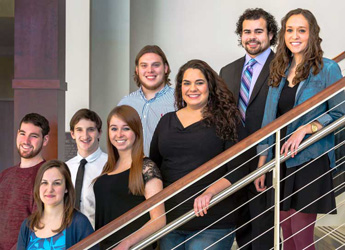 The eight winners of the 2014 DePauw Concerto Competition will perform in concert with the DePauw University Orchestra this Sunday, April 6, at 3 p.m. in Kresge Auditorium, located within DePauw's Green Center for the Performing Arts.
The unique competition takes place annually, offering music students a chance to compete for the opportunity to perform in concert, with a full orchestra, in the 1,400-seat venue. After passing a preliminary round with DePauw faculty judges, the winners are selected by outside adjudicators in a final round.
This year's winners include Rachel Robin, piano (student of May Phang); Emily Barnash, soprano (student of Pamela Coburn); Lindsey Sullivan, violin (student of Dan Rizner); Julie Strauser, soprano (student of Caroline Smith); Dan Hickey, clarinet (student of Randy Salman); Peter Lockman,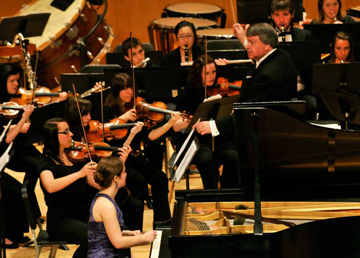 cello (student of Eric Edberg); Lance Orta, tenor, and Blake Lampton, baritone (students of Kerry Jennings).
Under the direction of Professor Orcenith Smith, the orchestra will accompany these talented soloists in a variety of large-scale works. The program features operatic favorites such as "Song to the Moon" from Dvorak's Rusalka and "Largo al factótum" from Rossini's Barber of Seville as well instrumental masterpieces like Prokofiev's Piano Concerto No. 3 and the beloved Saint-Saëns Cello Concerto.
The program's repertoire also includes another treasured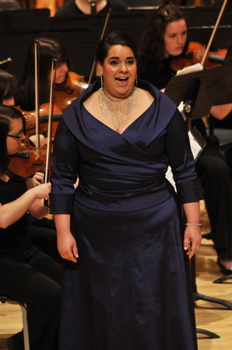 work by Saint-Saëns -- the dramatic and lyrical Violin Concerto No. 3 -- in addition to the fourth clarinet concerto of the prolific 19th-century German composer Louis Spohr, and arias from both Massenet's and Auber's settings of the French novel Manon Lescaut.
General admission tickets for the event are $3. Tickets for all students, seniors over 65, and youth, 12 years and younger, are free thanks to season sponsors Judson and Joyce Green. To ensure that any person wishing to attend a performance is able to do so, a pay-what-you-can option is available online and on request. To purchase tickets, visit www.depauw.edu/music/tickets or stop by or call the Green Center box office, (765) 658-4827.
Back