Long-Term Stability in Ukraine is Key, Lee Hamilton '52 Writes
April 4, 2014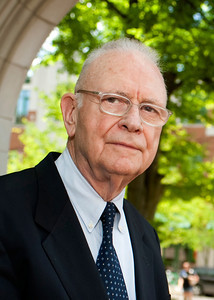 "What's happening in Ukraine represents an extremely dangerous crisis, as alarming and precarious as any crisis of the post-Cold War period," according to Lee Hamilton, a former congressman who chaired the House Intelligence and Foreign Affairs committees. "Indeed, we are undoubtedly at a watershed moment in East-West relations; regardless of the energy and good-faith effort we put forth, we will not solve this crisis rapidly or easily."
In an op-ed, Hamilton, a 1952 graduate of DePauw University, notes that following Russia's takeover of Crimea, "The conversation thus far has largely centered on how the U.S. and its European allies can ease the standoff over Ukraine, convince Russia to scale back the tens of thousands of troops it has reportedly amassed near Ukraine's border and prevent a prolonged crisis in this important part of the world. Missing from much of the discussion, though, is a frank assessment of what exactly the U.S. and its European allies seek to accomplish outside the more immediate aim of keeping the Russians out of Ukraine. That is, what is our long-term objective with regard to this troubled nation and, if there is one, is it attainable?"
Hamilton, a Democrat who served 34 years in the U.S. House of Representatives, writes, "The Obama administration confronts a major challenge in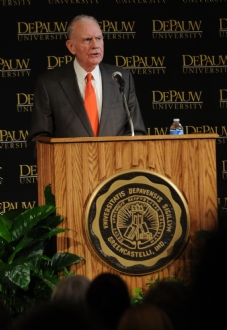 keeping open a dialogue with Russia, while developing and preserving a united front with Europe against Putin's aggression. We will not -- and should not -- go to war over the occupation of Crimea. However, that occupation should be punished, and Putin should be discouraged from future actions through economic force. Our policy will have to be selective and nuanced, with a mixture of containment, engagement, isolation and punishment strategies. Our challenge in enacting that policy will be to stay the course and keep our alliances intact. A Russian invasion of Ukraine -- which, thankfully, is appearing increasingly unlikely -- would present us with even more difficult choices. But even then, aggressive economic sanctions would be the strongest possible action America and its allies could take."
He concludes, "As the crisis continues, we will undoubtedly hear more calls for tougher action against Russia. But it is equally vital that we identify and clearly communicate our main objective, which should be supporting, stabilizing and strengthening a free and independent Ukraine."
Access the complete text by clicking here.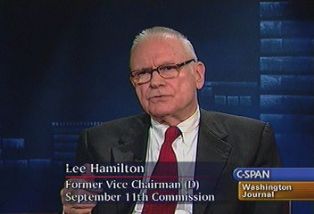 Lee H. Hamilton is now director of the Center on Congress at Indiana University. He has remained active following his retirement from Congress, serving as vice chair of the 9/11 Commission and Iraq Study Group. The man called "Mr. Integrity" by Newsweek is the author of Strengthening Congress; How Congress Works and Why You Should Care; and A Creative Tension: The Foreign Policy Roles of the President and Congress.
A history major and basketball standout as an undergraduate, Hamilton has been a frequent visitor to DePauw over the years and delivered an Ubben Lecture on March 15, 2011.
Back