Chanticleer, Grammy-Winning A Cappella Choir, Here Saturday
April 7, 2014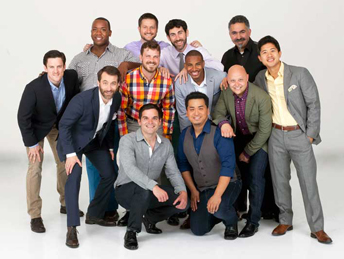 April showers will bring more than flowers to Greencastle this month. With the passing of winter, an embarrassment of riches will also be popping up at the Green Center for the Performing Arts, including the multi-Grammy Award-winning vocal ensemble Chanticleer. Described as "the world's reigning male chorus" by the New Yorker, the group has a special affinity for lush repertoire, ranging from intimate chamber pieces to grandly celebratory double chorus works in 12 parts. For its Green Guest Artist Concert at 8 p.m. on Saturday, April 12 in Kresge Auditorium, the San Francisco-based ensemble plans to stoke the eternal dialog between the sexes with selections from its latest recording She Said/He Said.
The bawdiest of Renaissance madrigals, standards by Cole Porter and Ravel's dramatic Trois chansons revisit this age-old topic, featuring the wide-ranging voices of Hildegard von Bingen, Brahms, Fanny and Felix Mendelssohn, as well as Vince Peterson's arrangement of Joni Mitchell's "Both Sides Now."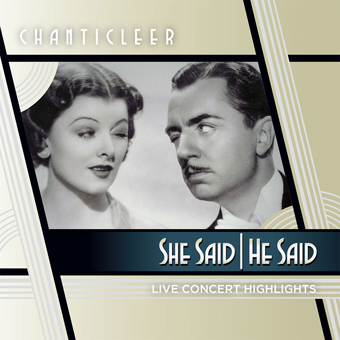 When founded by Louis Botto in 1978, Chanticleer was named for the "clear-singing" rooster in Geoffrey Chaucer's Canterbury Tales, which one of the members was in the midst of reading at the time. Later named the 2008 "Ensemble of the Year" by Musical America, the ensemble is now known around the world for the seamless blend of its twelve male voices, from countertenor to bass.
Its 2013-14 international tour of nine European countries saw debuts in Dublin, Moscow and St. Petersburg; and returns to Paris, Vienna, Budapest, Prague, Antwerp, Rotterdam, and Bruges. This season, the group will also perform in 23 of the United States. You won't want to miss the concert Saturday; it's their only Indiana appearance.
"The singers of Chanticleer are rock stars of the a cappella world," says Gregory Ristow, director of choral activities at DePauw. "I've heard them sing live several times, and they always put on an amazing show -- everything from vocal jazz to renaissance church music. And, they do it all beautifully. It's just hard to believe that voices alone can make such amazing sounds."
According to Ristow, Chanticleer is a huge name in the world of singers. "They are the most widely-known and recorded a cappella ensemble in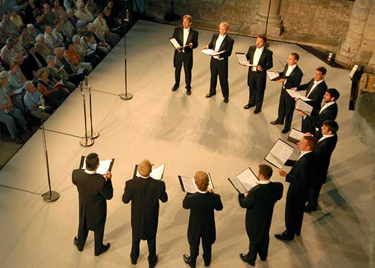 the U.S., possibly the world."
Since the choir began releasing recordings in 1981, it has sold well over a million copies and garnered three Grammy Awards. Its recordings, distributed by Naxos, Rhino Records, ArkivMusic and iTunes, as well as on Chanticleer's website (www.chanticleer.org), will also be available for purchase at the concert on April 12.
General admission to the Green Guest Artist series is $10–15; tickets for students, seniors and children are free, thanks to season sponsors Judson and Joyce Green. To obtain tickets, visit www.depauw.edu/music/tickets, or stop by or call the box office, (765) 658-4827.
Back