Sunday Band Concert Prepares DePauw Students for Ninth CD Recording
April 9, 2014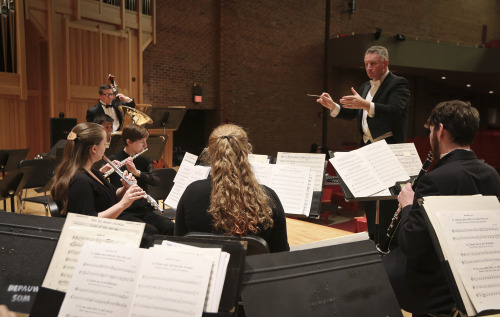 The DePauw University Band -- joined by faculty soloists Eric Edberg (cello) and Carla Edwards (organ) -- presents its final concert of the 2013-14 academic year this Sunday, April 13. In the event, which begins at 3 p.m. in the Green Center's Kresge Auditorium, the band will performing a wide range of repertoire that will be recorded at the end of the month for the ensemble's ninth compact disc.
The adventuresome program will include two movements from Mozart's masterpiece for winds, Serenade No. 10 in B-flat Major, K. 370/361a, "Gran Partita"; Tramonto, a romanza for cello and wind ensemble by Luis Serrano Alarcón; Avelynn's Lullaby by Joel Puckett; and the final movement, Toccata, of Joseph Jongen's Symphonie Concertante, arranged for organ and symphonic band by DePauw professor of trombone, James Beckel.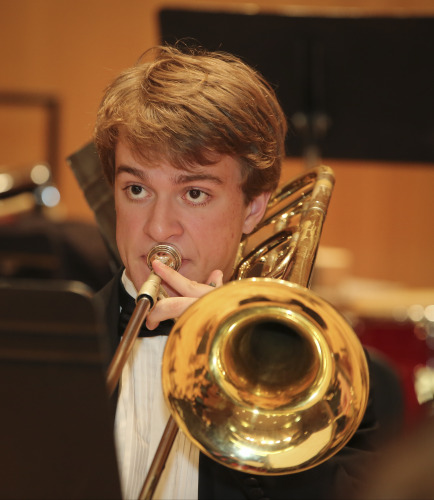 According to the conductor Craig Paré, the band world is in the midst of an exciting period of change and artistic development, as evidenced in an increasing array of new literature for winds. Through the compact disc recording project, the DePauw University Band is actively contributing to the ever-expanding realm of recorded wind literature.
"I am very excited about preparing for the recording sessions that will lead to the creation of our ninth University Band CD," stated Dr. Paré. "With several pieces being first-time recordings, the DePauw School of Music will introduce some new wind music to the world, as well as offer our own interpretations of other major pieces for symphonic band and wind ensemble. In particular, we are thrilled to feature three faculty members as soloists on our upcoming recording -- Carla Edwards (organ), Eric Edberg (cello), and Randy Salman (clarinet) -- making this a unique and artistically challenging experience for our undergraduate musicians."
General admission to DePauw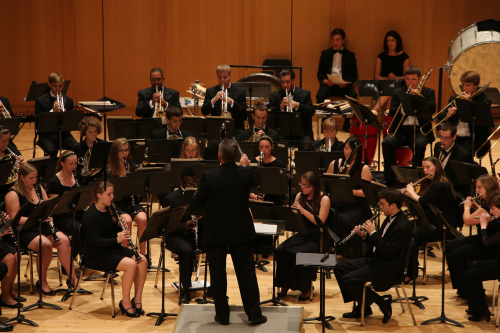 University Band concerts is $3. All audience members who bring a non-perishable food item (which will be donated to the Putnam County Emergency Food Pantry) may redeem that item at the Green Center box office for a free concert ticket. For any person wishing to attend a performance but who can not afford to do so, a pay-what-you-can option is available online and on request.
To obtain tickets, visit www.depauw.edu/music/tickets, or stop by or call the box office, (765) 658-4827.
Back