Martin Napasteck '74 Authors Mrs. Mark Twain: The Life of Olivia Langdon Clemens, 1845-1904
December 3, 2013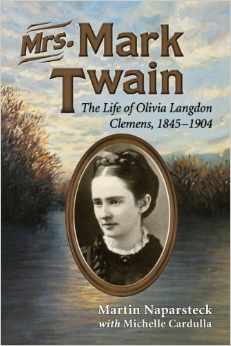 Martin J. Naparsteck, who earned a master's degree in English in 1974 from DePauw University, is the author of Mrs. Mark Twain: The Life of Olivia Langdon Clemens, 1845-1904. A collaboration with Michelle Cardula, the book has just been published by McFarland.
A synopsis notes, "Olivia Langdon was born into what became the richest family in Elmira, New York, in 1845, and was one of the first females in the country to attend a college. But her life became extraordinary when she married Mark Twain in 1870. As the wife of the man who was destined to become the best known, and perhaps best loved, American in the world, she would befriend the literary elite of America and Europe, travel around the globe, and dine with royalty. But her life was filled with tragedy. Her son was born prematurely, was never healthy, and died when he was a year and a half old. Her oldest daughter would die of spinal meningitis at age 24. Her youngest daughter was an epileptic. Her father, with whom she had a very close relationship, died just six months after her marriage. A close friend died while visiting her home. Olivia herself was always frail, and she spent years at a time bedridden. Her husband's bad investments drove the family into bankruptcy. Through all of this, she and Mark Twain maintained a close, loving, caring relationship."
Order the book at Amazon.com.
Back