Command White House Performance for Composition by Prof. David Ott
February 21, 1990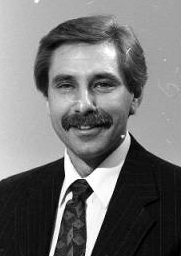 February 21, 1990, Washington, D.C. - The music of David Ott, acting director of the DePauw University School of Music, filled the East Room of the White House tonight. Professor Ott's composition, DodecaCelli, was performed at an event honoring Mstislav Rostropovich, conductor of the National Symphony Orchestra.
The piece was warmly received by the audience. Rostropovich invited Ott to the stage for a bow, a Russian bearhug, and a kiss. Then, Anna Perez, Barbara Bush's press secretary, whisked Ott off to the national press waiting to speak to him at the back of the room. (photo below shows David and Susan Ott with President and Mrs. Bush)
Five years ago, Ott attended a master class with Rostropovich using DePauw faculty development funds. It was there that the conductor heard Ott's Cello Concerto and told him, "You are a good composer, but your work is mosaic."
According to Ott, "That is one of the most important things anyone ever told me. What I came to realize he meant was that there were so many ideas in my work that none really stood out. It taught me to write uncompromisingly."
Rostropovich commissioned a concerto for two cellos from Ott in January 1987. "Make it 15 minutes and make it effective," were the DePauw professor's only musical marching orders. In June,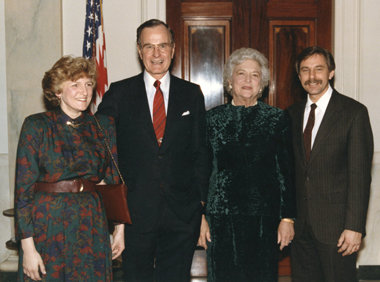 Ott went to Washington to complete work on the concerto with NSO cellists David Teie and Steve Honigberg.
Concerto for Two Cellos premiered in Washington in 1988 and earned Ott a Pulitzer Prize nomination. The success led to the commissioning of DodecaCelli by the World Cello Congress later that same year.
The professor has since received more commissions: a concerto for trumpet, trombone and French horn to be premiered in May 1991; a contract to appear on National Public Radio; and a piece for the American Symphony Orchestra to be performed at Carnegie Hall.
Back