Biologist and Author Sandra Steingraber Coming for Earth Day Speech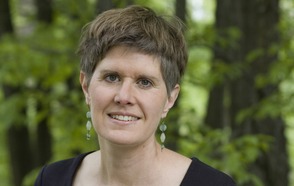 April 17, 2014
Sandra Steingraber, an internationally recognized authority on environmental links to cancer and reproductive health, will speak at DePauw University on Wednesday, April 23, as part of the campus' commemoration of Earth Day. Dr. Steingraber will speak in the ballroom of the Memorial Student Union Building on "The Whole Fracking Enchilada: Toward Meaningful Toxic Chemical Reform and a Rational Energy Policy." The address begins at 7:30 p.m. and is free and open to all.
The author of Living Downstream: An Ecologist's Personal Investigation of Cancer and the Environment; Having Faith: An Ecologist's Journey to Motherhood and Raising Elijah: Protecting Children in an Age of Environmental Crisis, Steingraber has been called "a poet with a knife" by Sojourner magazine. She was named the Ms. magazine Woman of the Year in 1997 and received a 2006 Hero Award from the Breast Cancer Fund and, in 2009, the Environmental Health Champion Award from Physicians for Social Responsibility.
Dr. Steingraber is currently a scholar in residence at Ithaca College in Ithaca, New York, and a columnist for Orion magazine. Her speech at DePauw, which is being presented by the Environmental Fellows Program, will be followed by a book signing.
Back