Murad Medal Awaits First Winner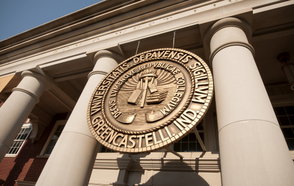 April 22, 2014
This April, seniors Samantha M. Anderson, Trina M. Manalo and Maritza J. Mestre are being honored as finalists for the Ferid Murad Medal, awarded for the first time this year to the senior who has had the most significant scholarly or artistic achievements during his or her time at DePauw.
Anderson, Manalo and Mestre were among 14 students nominated for the award by the University's academic departments and programs, then winnowed to three finalists by the Faculty Development Committee. All three will be acknowledged at the annual Academic Awards Convocation on April 28, where the winner will also be announced and presented with a medal to recognize her achievement.
"It was exciting to review the backgrounds of the nominees and finalists because each candidate exemplified the type of academic excellence we love to see in our students," says Dave Berque, professor of computer science and dean of Academic Life.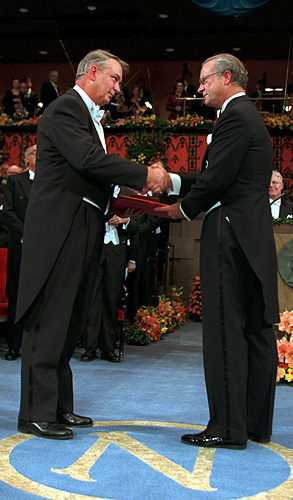 Dr. Ferid Murad, for whom the award is named, is a 1958 graduate of DePauw and a professor at George Washington University's School of Medicine and Health Sciences. Murad began a long career in medical research after earning M.D. and Ph.D. degrees in 1965. In 1998 he received the highest honor in his field, winning the Nobel Prize in Medicine (pictured, on left) for his work with nitric oxide, a colorless odorless gas that signals blood vessels to relax and widen, which in turn lowers blood pressure.
Calling the Murad Medal a "wonderful honor" for him, Murad says the first three finalists remind him of his own time as a student.
"The three candidates are outstanding examples of the educational program at DePauw University," Murad says. "I was extremely pleased with the education that I received at DePauw in both the liberal arts and the sciences. The exposure to research at DePauw stimulated my appetite to attend both medical school and graduate school as one of the first M.D./Ph.D. students in the United States. DePauw prepared me very well for this endeavor. This year's candidates for the first Ferid Murad Medal also have that desire and appetite. I wish them well."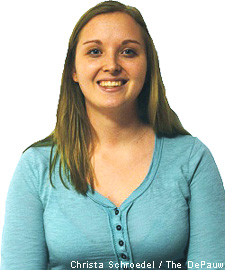 Anderson, a biochemistry major from Wonder Lake, Ill., is graduating in three years as both a Rector Scholar and Science Research Fellow. In addition to her work as a teaching assistant in the chemistry and biochemistry department, a tutor in the Quantitative Reasoning Center and peer mentor for the Women in Science organization, Anderson has worked on five research projects while a student at DePauw. During one project, she worked to create a drought resistant plant that could make its own water. Based on this work, combined with extraordinary classroom performance, the biochemistry department awarded Anderson the Wylie-Condit Science Scholarship for promising science students.
"We are often told that college should culminate in more than a diploma, and all of the nominees show that we have worked hard to do more to enhance our education than simply doing well in our classes," Anderson says. "However, the recipient of the Murad Medal is more a reflection on DePauw's capability as an institution of higher learning than any one person's accomplishments. I owe much of my success to the education and guidance I have received from the fantastic faculty of the University."
Anderson and Manalo, a chemistry major from Fort Wayne, Ind., both worked with Associate Professor of Chemistry and Biochemistry Daniel G. Gurnon and physicist-artist Julian Voss-Andreae to design and weld the protein sculptures that hang in the Percy Lavon Julian Science & Mathematics Center atrium.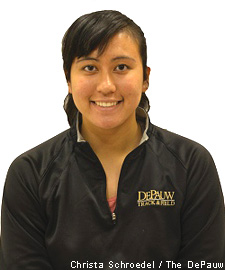 Manalo also pursued multiple lines of research while at DePauw. During the summer following her first year, Manalo obtained a research opportunity with Indiana University School of Medicine investigating nutrient deficiencies in the nation's largest Burmese refugee population. As a junior, she joined Associate Professor of Biology Pascal J. Lafontant's cardiac research lab. Her work on cardiac remodeling in the giant danio fish earned recognition from the Indiana Physiological Society in 2013, and she was selected as one of 11 national finalists for the undergraduate poster presentation held by the American Association of Anatomists in both 2013 and 2014.
"For me, DePauw is about seeking opportunities and attempting to make something great happen with them," Manalo says. "I feel like this award embodies another aspect of what makes DePauw a great university."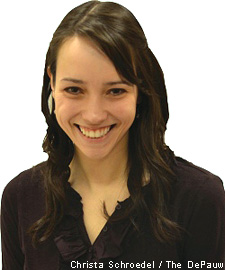 Mestre, a sociology major from Urbana, Ill., left no stone unturned at DePauw. Mestre will graduate as an Honor Scholar, Media Fellow, and member of the Phi Beta Kappa and Alpha Kappa Delta honor societies. Early in her DePauw career, she served as a section editor for The DePauw, for which she received four state-level awards for published articles. During her Media Fellows internship, Mestre worked at the United Nations World Food Programme in Rome. She also interned with Teach for America, teaching sociology and English as a second language in a high school in Memphis, Tenn.
Mestre's scholarship includes her sociology senior thesis, "'Sweeping it Under the Rug': Student and Faculty Experiences Discussing Race and Ethnicity," which she presented at the North Central Sociological Association Conference this spring, and her Honor Scholar thesis, a content analysis of Susan B. Anthony and Elizabeth Cady Stanton's letters and the role of their friendship in advancing their personal and professional goals.
"DePauw students are incredibly driven and studious, and academics represent a huge part of our culture and motivations," Mestre says. "Emphasizing that focus with a University award reflects the support and encouragement the University provides us in pursuing our intellectual goals."
More about this year's finalists can be found on the Ferid Murad Medal webpage.
Courtesy photos by Christa Schroedel at The DePauw.
Back